Equally Geeky Sites
These are the sites that we love… the sites that we visit when we're not playing here on Elder-Geek.com. We can all wholeheartedly recommend each and every one of them for your personal viewing pleasure!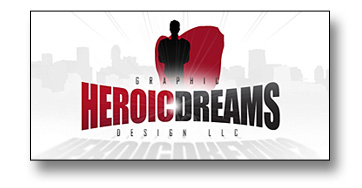 It goes without saying that Elder-Geek.com wouldn't be the same without Heroic Dream Graphic Design LLC. Nate Yungkans is not only one of the most professional designers in the business, but he's also one of the nicest people you could ever meet. Don't take our word for it, just check out the caliber of his work. His designs speak for themselves. He alone came up with the "true" concept of an online magazine and he constantly looks to push the web medium into bigger and better places.
In fact, we regularly visit Nate's site to see what other things he's working on. You should too.
To say we are lucky to have Nate work with us on this site is the understatement of the year.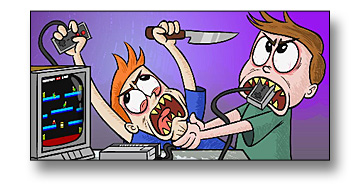 Phil Summers is a hell of a guy. He's a music lover. A movie lover. He's an amazing artist. He's a funny guy. And he also hosts one of our favorite sites on the internet.
You've all probably seen his work virally on the internet. Someone has undoubtedly emailed you one of his cartoons. Well, here's your chance to skip the middle man and enjoy everything for yourself first hand.
Phil hosts a regular "nerdlog," his comics, a fantastic and very funny podcast, and a smorgasboard (forums) for his regular visitors. And we absolutely cannot wait until we see another episode.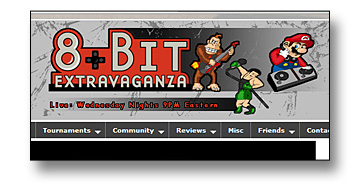 8bitX.com is the premier internet radio station if you love video game music. And the best part is, it's all free. With a fantastic line-up of shows like The 8bit Extravaganza, Radio Free Gamer, Average Joe Gamer and more, 8bitx.com has something for all types of video game music lovers. It doesn't stop with original soundtracks either. The shows also includes some of the best remixes and recreations that can be found anywhere.
And they do it all live.
Interviews, special guests, contests, tournaments, commentary, special features… THIS is a full fledged radio network, but it can only be found online.
Just listen to one episode of Radio Free Gamer or The 8bit Extravaganza. You'll be hooked.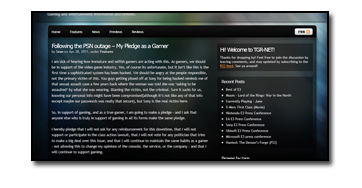 Started as a home project by Sean "Seluhir" Engel, TGR-net is a gaming and entertainment site dedicated to providing video game reviews and information from a lifetime gamer. Sean's commitment is to providing reviews unpolluted by the inconsistent numerical scoring systems. This is a website for gamers designed lovingly by someone truly dedicated to gaming.