Following the success of the first two map packs for Call of Duty: World at War, Activision today revealed that the third map pack will be released in August. The pack, which will be called 'Locked and Loaded' will contain three new multiplayer maps, as well as a new map for the gamemode Nazi Zombies.
One of the maps, called 'Battery' is set on a mid-sized armoured island and focuses on close quarters combat. Another map, named 'Breach' is set in the demolished city center of Berlin. The final multiplayer map included in the map pack will be set in Russia, in a factory-setting with large open areas for long-range combat. This final map is named 'Revolution'. The Nazi Zombie map is called 'Der Riese', which translates to 'the Giant'.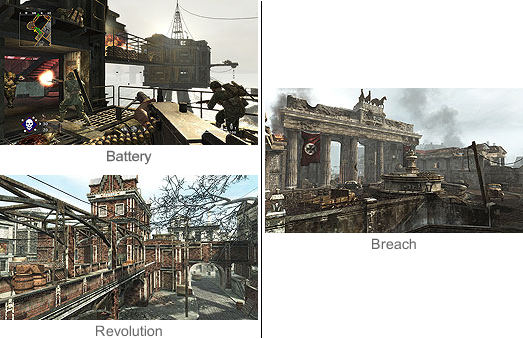 A price level for the map pack has not yet been announced, but the previous map packs (which were released the 19th of March on and the 11th of June of this year) both had a price of 800 Microsoft Points or $9.99 on Playstation Network.