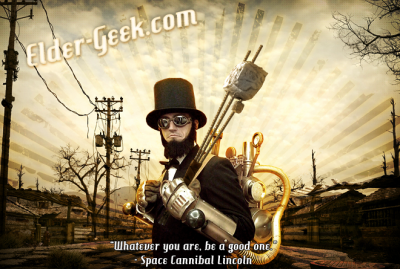 Our charitable Child's Play venture into the Mojave Wasteland, we are happily biased to report, was a success in multiple ways. For those unfamiliar with our motivation for this charity drive, check out our industry profile on Child's Play. While we were far away from our lofty $7,770 goal (Randy happily putting away the razor he would have used to Mohawk himself), we more than established a name for ourselves on Livestream – making their front page for the majority of the event – and garnered a sincere base of supporters. If you missed the gaming marathon, you can redeem yourself by checking this post-mortem here, as we try to encapsulate the wonders that was 46 straight hours of The Adventures of Space Cannibal Lincoln.
There was no way we couldn't gotten such a noble experiment off the ground without the support of many corporate and independent sponsors. Bethesda Softworks, the publishers of our marathon game of choice: Fallout: New Vegas, were the generous donors of four full copies of the game across multiple platforms for the drive. Frictional Games also spread their wares at the show, donating five copies of their highly lauded (first and foremost by Elder-Geek.com) Amnesia: The Dark Descent, the developer being one of the first adopters of the charity drive after it was announced. The always kind folks at MAGFest sent two passes to their 9th annual festival, just the latest action in a long-running and happy partnership between the convention and Elder-Geek. Lastly, outside of Elder-Geek's own donations, Heroic Dreams Graphic Design managed to send both a PC copy of Dirt 2 and a PS3 copy of Resonance of Fate.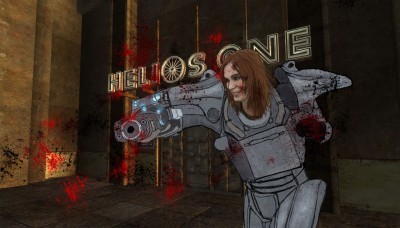 But while donations from companies both major and minor weren't out of the realm of the expected, the Charity Drive's first major surprise came just hours into the event. Starting with a idea from a single person in the chat, Steam games and gift copies quickly became one of the major sources of chat room participation. Whether it was sending us your gift copies in shows of truly touching support, or hanging out with us and helping us conquer radiated creatures of the future to keep our impromptu Steam raffles going, the games kept flowing in and quickly became the signature draw of the show. Mostly because it was you, the heroes, that made all the reddits and plugs we couldn't to keep the new faces and donations coming in. There were literally too many acts of kindness to list them all in one page, but know that everyone on staff here and at Child's Play-affiliated hospitals thanks you graciously for every copy given. As we finally settle our little misunderstanding with Valve and get the last remaining games out to the winners, expect the Steam Raffle to become synonymous with Elder-Geek in the coming months.
Arguably the most endearing donations came not from money or games, but in the time and energy spent in creating fan art for our proceedings in real time as we played. Our utmost favorites litter this article and its featured gallery below. Some of the best moments from the donation drive have been immortalized in art; from our companion Felicia Day (or at least a character with her voice) kicking ass in power armor, to the many memorable moments of Rumble McKenzie's adventures as (in order) Space, Cannibal, and Alcoholic Abraham Lincoln – sometimes even equipped with our favorite weapon from the playthrough: the limb-emancipating Rebar club!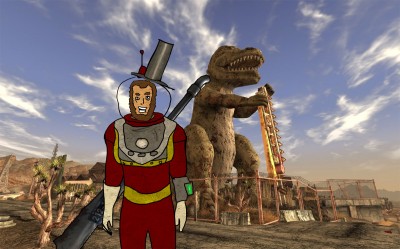 After all the support we have reached from our viewers, with early reports out of our communications with Child's Play being equally positive, there's no way this would be a one time thing. We here at Elder-Geek have become more addicted to supporting these kinds of organization than we ever were to Jet, Beer, or Buffout. Expect a lot more charity drives and playthroughs on the site's Livestream account, all made available for public viewing and as many Raffles as we can muster. In a show of our appreciation for all of what you guys have done before and during the marathon, we bestow upon you all the greatest gift we can offer: Rumble McKenzie himself! For all you guys with the PC version of Fallout: New Vegas, you can find the file representing the end result of all our 46 hours in the Wasteland, inside jokes and all.
From the bottom of our collective hearts, we cannot thank all of you that supported this initiative enough. With your help, we raised over $1,200 for Child's Play affiliated children's hospitals, and doled out almost two dozen amazing prizes in the process. Keep your browser tuned to Elder-Geek in the future for more charity drives, playthroughs, and Let's Play videos from our Livestream account, and all of the great features and reviews you have come to expect. Until then, we'll see you in the Wasteland!