I purchased the  Street Fighter® IV Mad Catz™ Bundle (PC) that included the  Madcatz Official Street Fighter™ IV FightPad™ .  After waiting a few extra days on the preorder/backorder, I received my package and immediately opened it up to try out the new controller, the Madcatz Official Street Fighter™ IV FightPad™ for Xbox 360 – Ryu. It fit in my hands quite nicely and I really love the large buttons that make it very easy to hit button combinations. The buttons rattle a little bit, but the build is solid and it felt in no way fragile or cheap. It has a large d-pad (directional pad) which seems to have very good movement, but I found difficult to use for gameplay due to my limited thumb skills.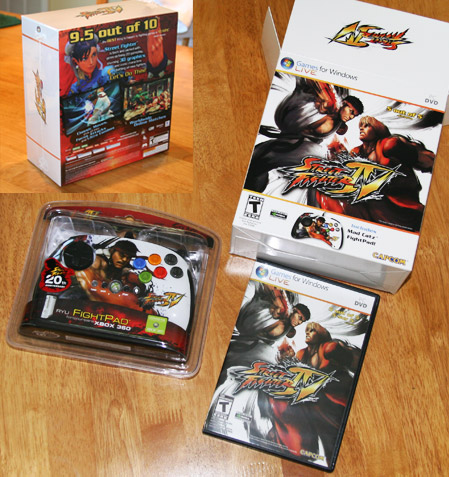 Those who are good at fighters and like using the d-pad might love this oversized control, but after using both the fightpad and a regular xbox 360 controller with the analog stick, I've found that I can pull off moves with much greater ease on the regular 360 controller analog stick. The fightpad is a wired controller but the wire is so long that unless you are worried about tripping over the wire, it's really a non-issue. It also includes the standard 360 headset port on the bottom for your voice communications.
Here's the issue that I ran into: I get all kinds of games on my PC running Windows XP Professional x64 and some games just play better with a controller, so in the past I've connected a Microsoft Xbox 360™ Wireless Controller for Windows® using the Microsoft Xbox 360™ Wireless Gaming Receiver for Windows®. I like that many games already have a default setting for the controller and support the rumble feature. Apparently you cannot use the Wireless Gaming Receiver and the wired Fightpad at the same time. I wanted the Fightpad so that I could use it in addition to my wireless controller for some Street Fighter tournaments when my friends were over but I soon discovered that when the Fightpad is plugged in, the wireless receiver stops working. I attempted several ways of trying to fix it on my own, I reinstalled the drivers from the microsoft website, restarted the computer with both plugged in, and tried connecting them in a different order. The controllers worked fine on their own, but that wireless receiver just will not work with the wired fightpad plugged in. I contacted Madcatz first for some technical support, and to their credit they responded immediately. I sent an email first, but was impatient so called almost immediately after sending an email (which they also responded to and knew that I had made a call). I spoke to someone almost immediately and they tried to help, but as of writing this article, are still unable to resolve the issue. They told me that due to Microsoft licensing, the Fightpad is made to MS specs and uses MS drivers so any sort of software complication is most likely due to microsoft's drivers and I should contact their tech support.
I'm hoping they find a resolution as my experience trying to get technical support from Microsoft has been awful. I have tried contacting MS through email on the Microsoft site, and through the Xbox site, but each time (4x so far) that I've gotten a response they've never actually read my questions or details. Instead they send me some pre-written response that doesn't address or even fit my issue. They just pick some word they recognize in my email and send me a practically automated response. It's infuriating!
I tried calling the number for xbox support but was never able to reach a real human being as I was routed and re-routed through their automated system. I called the microsoft number and managed to talk to a real person, and the woman from another country told me that the wired controllers and the wireless receiver are incompatible and will not work simultaneously. Then when I continued to question her about it (admittedly with an angry tone), she just stopped answering me; either putting me on hold or she hung up altogether. I think they must have a policy that once they start pissing off the caller they're supposed to hang up to piss them off even more. I told the Madcatz guys the response I got from Microsoft, but I'm hoping they'll be able to find some sort of solution. My situation should in no way turn you off to Madcatz as they have been nothing but great so far and I believe the problem lies with microsoft's drivers. I'll post an update if the situation is ever resolved.
If you aren't concerned with any sort of conflicts like I had to deal with, and you are good with a directional pad, this controller is definitely worth a purchase with its solid build and good button layout. If you don't like the d-pad, I'd look into other arcade stick alternatives.
UPDATE:

I have communicated both with Madcatz and Microsoft about my issue, and neither one was of any help. Madcatz was quick to respond, but in the end just blew me off saying that they tested it and it works fine. The details of their "test" was not revealed to me so I don't know if they actually tried it or not. Before the last blow-off email they said that if it's a software issue then it's microsoft's error and I need to talk to them. But Microsoft just said that it's a 3rd party controller and I need to talk to Madcatz. So essentially they both blame each other and don't care that there's a problem. If you have windows XP Pro 64-bit and currently use the xbox360 wireless gaming receiver for windows, do not buy the madcatz wired controllers because you won't be able to use them at the same time. It was a waste of money and I regret the purchase.