The key to what makes a video game a video game will always be, naturally, the gameplay. But without the ability to tell a story, to develop characters and place them in a believable universe, most games would lack a soul. While still bowing firmly beneath the heel of cinema, games have made gigantic advances in narrative absorption and plot progression, each year bringing hundreds of worlds to become lost in. The following nominees weaved the best tales to be had this past year, and mark the continuing march toward an equal plateau of storytelling.
Nominees
Call of Juarez: Bound in Blood (Techland, Ubisoft)

Ghostbusters: The Video Game (Terminal Reality, Atari)

Grand Theft Auto: Episodes from Liberty City (Rockstar North, Rockstar Games)

inFAMOUS (Sucker Punch Productions, Sony Computer Entertainment)

Uncharted 2: Among Thieves (Naughty Dog, Sony Computer Entertainment)


Winner: inFAMOUS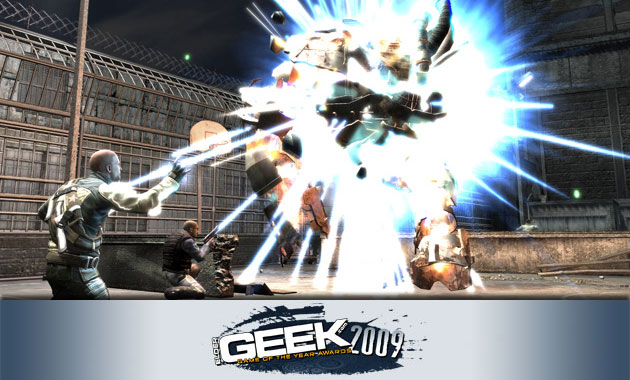 Comic book style meets action movie substance, as players take Cole MacGrath across a desolate city of survivors as an electrically powered meta-human. The game's moral dichotomy added a new dimension to your actions and their effects on the world around you, giving players more reason to dwell on the possibilities of Cole's powers. The world at large fluctuated with the player's decisions, both lengthening the replay value of INFamous and forcing players at time to reflect on the causal effect of the path they had taken. With great power, comes great conductivity.