During development, a video game's believability will, at one point, rest on a team (or sometimes single person) at a sound desk. From sound effects to voice acting to background noise, an atmosphere is majorly dependant on what how we as gamers react with our senses. And while the visual can still push the most copies off shelves, the audio is what keeps a game fresh in our minds long after the final boss. The following nominees were the sweetest music to our ears this year.
Nominees
Afrika (Rhino Studios, Sony Computer Entertainment)

Batman: Arkham Asylum (Rocksteady Studios, Eidos Interactive/Warner Bros. Interactive)

Call of Duty: Modern Warfare 2 (Infinity Ward, Activision)

inFAMOUS (Sucker Punch Productions, Sony Computer Entertainment)

Killzone 2 (Guerilla Games, Sony Computer Entertainment)


Winner: Batman: Arkham Asylum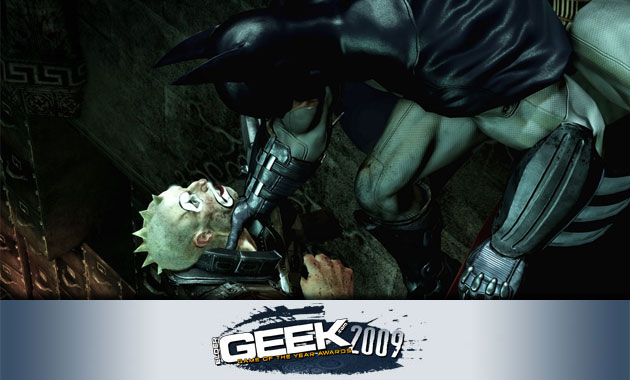 Mark Hamill's Joker over the PA system. The sharp swish of a thrown batarang. The dull thud of a gloved fist against a henchmen's back. All sounds that lingered in our minds as we trekked through Gotham's most notorious locale. Exceptional foley work combined with equally brilliant voice direction to form a cacophony of iconic tracks. From the simplest crinkle of broken glass on a floor to the biggest splash of Killer Croc falling into the sewer, Arkham Asylum was an audio treat from start to finish. The Caped Crusader never sounded so good.