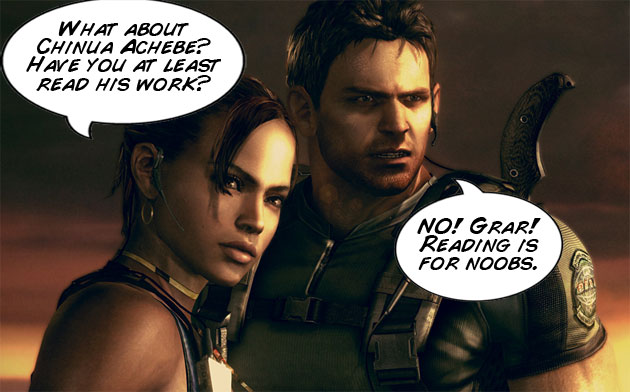 Gamers and literacy. Or the alleged the lack thereof. The recent explosion of rage about me over at Kotaku.com (based on a fairly healthy dose of misreporting) has led me to consider this topic. I could explain the connection in a long and boring paragraph. But who cares? The end result is what is more relevant.
I've heard it time and time again: Gamers don't read. Gamers are borderline illiterate. Gamers are subhuman monsters that communicate through a series of bluetooth transmitted grunts. And while this is certainly true of some gamers (just as it's certainly true of some politicians or doctors or teachers); I have quite a bit of trouble with this sweeping generalization. Because I am a gamer. And I read. A lot. In fact, I'm reading three different books right now. Well… not right now right now. Because in the current "right now" I'm actually writing. Though in that regard, I'm a gamer who writes as well as reads. I sometimes wonder how I manage this, what with me being a sub-human blue-tooth enabled grunting slack jawed illiterate gamer.
Grawrg! Games fun! Books not games! Burn books! Grar!
Stereotypes are easy. They make everything conform oh so nicely. Let's not think about people as individuals. Let's instead focus on a single negative aspect of a culture that may or may not exist and blow it out of proportion. I know that it is said that there is some truth in stereotypes. Sure. If you generalize something enough, and apply it to a large enough section of the populace, you're going to find a way to substantiate your beliefs. But that behavior is considered childish for a reason. Why? Because it's childish. There. You had to go and make me say it, didn't you?
Anyway… gamers and reading. The things about this particular stereotype that strikes me as strange… almost all the hardcore gamers I know are voracious readers. I worked in book stores for years. You know who I met there? Gamers. Lots of them. You know what the very well read staff of said stores typically liked to do? Play games.
I've attended San Diego Comic Con for the last 17 years straight. These days, well over a hundred thousand people attend this event. Massive amounts of nerd culture bursting under one sun baked roof. And the vast majority of people I have met there over the years? Gamers who read. Readers who game. And I don't just wander the halls in silence, looking at my shoes while hoping to stumble across a hot cosplay girl. No. I work a booth. My job at conventions is to talk to people. To find out what they like and why they like it.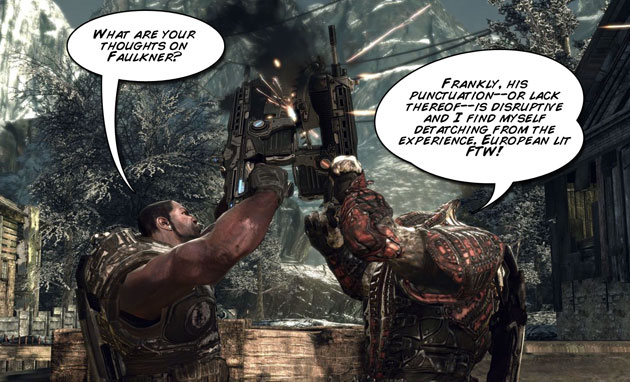 And I also attended WonderCon for 20+ years. And every APE. And multiple show's in Seattle and New York and Oregon and Michigan and so on. I attend as many as 5 conventions a year. And my experience has been the same at each event. Everytime. I meet people who like to play games and like to read. Over the years, it's probably safe to say I've met thousands and thousands of gamers that read.
On a strictly personal level, I'm lucky enough to know a lot of smart people. People way smarter than me. People with degrees in psychology, literature, mathematics, ect…. And they're all hardcore gamers. And they all read. A lot. All the time.
Now, I'm no professional sociologist. As a thick skulled knuckle dragging gamer, I don't even really know what sociologists do. I presume they make some kind of studies of sub-cultures and social behaviors. Probably in some real book learned, educated sort of "smart-guy-look-at-me-my-tie-doesn't-just-clip-on" way. The aforementioned studies are probably written up into papers of some merit without ever using a controller or a combo move. As I am so ignorant in the ways of the elitist college type folks, I will happily concede that there are probably a dozen or so studies out there that suggest I'm wrong in some capacity. But let's be fair. Those studies are likely very boring and dry. Far too long for my weary gamer eyes to read.
So yes… there are gamers who don't read. There are also gamers who don't pay their taxes and gamers who shoplift and gamers who beat up old ladies. And yes, there are even gamers who will somehow inadvertently misinterpret this as a crusade against gamers. Because most everyone is a gamer now. Whether they're smart or stupid or young or old.
Grandmother playing Farmville through the Facebook account she uses to try and keep tabs on her grandchildren? Gamer. 3 year old playing Flash animated Bob the Builder games on a hand me down junk laptop? Gamer. Advance Math professor playing Left 4 Dead after work? Gamer. Politicians, construction workers, doctors, plumbers, editors, actors, ect… Gamers. Any of them or all of them. And while some of them may not read, I hardly see how that is the fault of gaming. The reality is, some people will never be readers, whether they play games or not.