Author's Note: Predictions are based in part by past voting records, consumer trends, advertising, and published anonymous accounts from Academy members. Check the hyperlinks in each categories for a corresponding clip showing off the movie's goods in that department. See you Sunday, March 7th at 8EST/5PST!
The little golden naked man looms on the horizon as the 82nd Annual Academy Awards approach.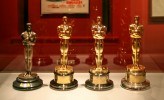 The epitome of Hollywood glam and pomp is reinvigorated after the slight ratings boost from last year's number-heavy Hugh Jackman show, and with two hosts and ten Best Picture nominees for the first time in decades, there's a concerned effort to continue bringing the show back to its popular roots.
With the expected broadcast to reach beyond three hours this Sunday, there's a lot to take in when crossing a nominee ballot sheet online or overhearing friends debate on which of their favorites will be passed up for an award by Avatar. Have no fear, because the Gav has once again wade through the politics and psycho-analyzed the Academy to bring you the best cheat sheet your office betting pool never saw coming. Sit back and check off the categories you're riding on, this is the Gav's Guide to the Oscars!
And the nominees are…

Best Sound Mixing
Avatar – Christopher Boyes, Gary Summers, Andy Nelson and Tony Johnson
Inglourious Basterds – Michael Minkler, Tony Lamberti and Mark Ulano
Star Trek – Anna Behlmer, Andy Nelson and Peter J. Devlin
The Hurt Locker – Paul N.J. Ottosson and Ray Beckett
Transformers: Revenge of the Fallen – Greg P. Russell, Gary Summers and Geoffrey Patterson
Going to Win: Avatar
The reduced presence of Transformers and Star Trek outside these categories would usually mean a placation win for either, but both lost the blockbuster shine that usually horded the category when Avatar stole the show. Inglourious Basterds' didn't have nearly enough new sounds to merit an upset, and while The Hurt Locker did wonders with the sounds of modern war, James Cameron's Pandora was a foley mixers wet dream, the dozens of new animal breeds and forest ambiance easily brings the mix table to an obvious front.
Should Win: The Hurt Locker
No film has ever made an explosion so intimate, and the way that Ottosson and Devlin worked with sound levels to elevate the on-screen tension is the stuff film classes are taught on. It could still pull an upset here, but the Academy rarely favors the realistic in the sound categories.
Dark Horse: Transformers: Revenge of the Fallen
Voter instinct could kick enough for the Academy to fall back on its "reward singular nominees" creed, but with such a major contender in the big categories sporting serious audio muscle, don't pay cash upfront on it.
Should Have Been Nominated:
If you wanted to throw a bone to the non-Na'vi action crowd, at least do it with the right film: Terminator: Salvation. Or, if you wanted to prove yourself capable of smart nominations for popular films, you missed Sherlock Holmes.

Best Sound Editing
Avatar – Christopher Boyes and Gwendolyn Yates Whittle
Inglourious Basterds – Wylie Stateman
Star Trek – Mark Stoeckinger and Alan Rankin
The Hurt Locker – Paul N.J. Ottosson
Up – Michael Silvers and Tom Myers
Going to Win: Avatar
Up has the whole animated thing going against it, and Star Trek hasn't registered beyond popcorn entertainment for many voters. Inglourious Basterds has the consistent volume shifts to draw attention to itself, but lacks the variety to stand out amidst such a bombastic pack. The Hurt Locker once again makes an explosive soundtrack even sharper, but Oscar voters are too addicted to pomp to ignore Avatar's new universe of sound cues.
Should Win: Inglourious Basterds
Tarantino films are pure ear candy, and Basterds probably stands as the best example. Gunfire and bludgeoning rain down in cacophony, each more gruesomely realized than the last. But being up against such fantasy soundtracks dulls the film's comparative strength.
Dark Horse: Star Trek
Boasting the blockbuster and science-fiction labels that usually dominate the category, Trek's mix of lasers and space battles really revel in their unreal audio. If anyone could manage to carve out a niche vote here this year, it's Stoeckinger and Rankin.
Should Have Been Nominated:
Its lackluster story really worked against its stellar presentation, but 9 easily had better sound editing than most films – animated or not – in 2009.

Best Short Film (Animated)
A Matter of Loaf and Death – Nick Park
French Roast – Fabrice O. Joubert
Granny O'Grimm's Sleeping Beauty – Nicky Phelan and Darragh O'Connell
Logorama – Nicolas Schmerkin
The Lady and the Reaper (La Darna y la Muerte) – Javier Recio Gracia
Going to Win: A Matter of Loath and Death
Best Animated Short is always a hard category to predict, most often because the Academy voters rarely watch the shorts themselves. While many of the shorts boast bright and energetic palettes, and Granny O'Grimm's sports an obvious hint of parody in the title alone, one look at Loaf and Death will bring the realization that it's a Wallace and Gromit film, the knowledge of which is more than enough to satiate voters before they move on to "more important" topics.
Should Win: French Roast
Containing all of the visual humor and enjoyable visuals of 2003's The Triplets of Belleville in 8 minutes is an impressive challenge, and Roast pulled it off with immense talent and obvious skill. Too bad no one, including Academy members, will bother to see it.
Dark Horse: The Lady and the Reaper (La Darna y la Muerte)
Boasting the most immediately interesting presentation of the nominees, the stark palette and morbid undertones of Lady could reap enough Voter attention to sway favor it's way.
Should Have Been Nominated:
Isn't this category a wholly owned subsidiary of Pixar Entertainment? Where's their (arguably best) pre-movie short, Partly Cloudy?

Instead of Abracadabra – Patrik Eklund and Mathias Fjellström
Kavi – Gregg Helvey
Miracle Fish – Luke Doolan and Drew Bailey
The Door – Juanita Wilson and James Flynn
The New Tenants – Joachim Back and Tivi Magnusson
Going to Win: The Door
Both Abracadabra and Tenants punch through their time with zest, but ultimately leave little effect on the viewer. The Door boasts many dark and dramatic tropes that the Academy loves, and easily has the most consuming narrative out of all available. This is again, assuming voters actually watch the nominees.
Should Win: Instead of Abracadabra
Academy members often leave a significant movie-going component out when calculating proper voting methods: fun. While simple, Abracadabra makes its love of its production readily apparent through its short run-time, and takes its story with a necessary grain of salt. A winner doesn't need to make you cry, it just needs to be good.
Dark Horse: The New Tenants
Having dead people as a major plot point usually gets the necessary attention, and Tenants actually manages a few surprising tricks in its brief existence. Despite the entire category is equally liable for victory, The New Tenants would make the most sense to come from behind.
Should Have Been Nominated:
…um…I got nothing.

Best Documentary (Short Subject)
China's Unnatural Disaster: The Tears of Sichuan Providence – Jon Alpert and Matthew O'Neill
Rabbit a la Berlin – Bartek Konopka and Anna Wydra
Music by Prudence – Roger Ross Williams and Elinor Burkett
The Last Campaign of Governor Booth Gardner – Daniel Junge and Henry Ansbacher
The Last Truck: Closing of a GM Plant – Steven Bognar and Julia Reichert
Going to Win: The Last Truck: Closing of a GM Plant
There are no categories in which current national politics play more heavily into than the documentaries. While China's Unnatural Disaster could play into Haiti post-earthquake sensibilities, Music catering to the always pity-inducing disabled-people-overcoming-obstacles nerve, and political unrest could lean voters toward The Last Campaign, The Last Truck focuses on two major modern problems: car company bail-outs and job loss. That alone could add enough emotional emphasis to carry a majority vote…
Should Win: The Last Truck: Closing of a GM Plant
…oh, and it's actually a really good documentary too. Emotional when called for and (thankfully) informative constantly, The Last Truck paints a desperate picture that can easily be put in a time capsule as definition for many current anxieties plaguing the country.
Dark Horse: Rabbit a la Berlin
A movie that actually adheres to the more traditional definition of documentary, Rabbit has both the adorable natural side of Meerkat Manor coupled with the always engrossing image of the Berlin Wall. It's custom made for emotional dichotomy, and works well with what it has. Bunnies AND World War II? It's like an Old Guard Critic's dream come true!
Should Have Been Nominated: Lt. Watada
Despite making the category's shortlist, the documentary about the Army lieutenant refusing to return a conflict he thought illegal was sadly beaten out. A smart business move, with War concerns covered in the show by Hurt Locker, this leaved the Academy to highlight other important subjects.

Avatar – Joe Letteri, Stephen Rosenbaum, Richard Baneham and Andrew R. Jones
District 9 – Dan Kaufman, Peter Muyzers, Robert Habros and Matt Aitken
Star Trek – Roger Guyett, Russell Earl, Paul Kavanagh and Burt Dalton
Going to Win: Avatar
If you had considered otherwise, please make sure to avoid handling sharp objects until your head can be thoroughly scanned by a medical professional.
Should Win: Avatar
Despite whatever hang-ups audiences may have with Cameron's epic, it undeniably revolutionized the blockbuster production process with its evolution of 3-D technology. Even without the lame glasses, the effects of Avatar are stunning to behold, with the most advanced computer effects ever, and probably for a long time.
Dark Horse: Distri –
Yeah, who am I kidding.
Should Have Been Nominated:
In the year of audience placation, you couldn't have thrown a few more nods out? Sitting in front of a computer for 5,000 hours deserves at least that. A few off the top of my head: Sherlock Holmes, Drag Me to Hell, Terminator: Salvation, Watchmen and 2012.

Best Makeup
Il Divo – Aldo Signoretti and Vittorio Sodano
Star Trek – Barney Burman, Mindy Hall and Joel Harlow
The Young Victoria – Jon Henry Gordon and Jenny Shircore
Going to Win: The Young Victoria
When it comes to visual design not guided by computers, grander is better. Any excuse a film can have to cake on the crèmes usually leads to more chance towards a nomination. Victoria also has the decided advantage of costume accentuation, which is perhaps its best advantage over the pack.
Should Win: Il Divo
With the "singular nominee" syndrome going for it, and a nice understated comparison to Young Victoria's Olde English flair. It lacks the advertising push to really make it stand out on the page though, and it could easily become one of the latest nominees to fall through the cracks because of it.
Dark Horse: Star Trek
More than just prosthetic ears, the makeup artists ran both the science fiction and action gamut with Trek, from bloodied faces to alien tattoos to old age. The effort may be buried underneath the effects for most of the movie, but there's still enough of an outside shot to make this a profitable wager.
Should Have Been Nominated:
Another three-nod category? Did last year's "Best Original Song" teach you nothing, Academy? Same "happy to be nominated" placation argument from before applies, here's another couple of contenders that immediately come to mind; for blood effects alone Drag Me to Hell or Zombieland, and for everything else: The Informant! and Julie and Julia.

Best Art Direction
Avatar – Rick Carter and Robert Stromberg (Art Direction); Kim Sinclair (Set Decoration)
Nine – John Myhre (Art Direction); Gordon Sim (Set Decoration)
Sherlock Holmes – Sarah Greenwood (Art Direction); Katie Spencer (Set Decoration)
The Imaginarium of Doctor Parnassus – Dave Warren and Anastasia Masaro (Art Direction); Caroline Smith (Set Decoration)
The Young Victoria – Patrice Vermette (Art Direction); Maggie Gray (Set Decoration)
Going to Win: Avatar
While not exactly coasting by its own merits here, the "wow" factor will again pull in Cameron's favor. Imaginarium is far too outrageous, and The Young Victoria far too understated to make enough of a dent to matter. If voters actually decide to vote on the basis of the actual category (whose definition changes depending on which expert you are asking), expect Nine to have its one victory here. Otherwise, it's good to blue.
Should Win/Dark Horse: Sherlock Holmes
Industrial Britain is a haven for a good production designer, and Guy Ritchie's take on Sir Arthur Conan Doyle was brimming with beauty. If you could tear your attention away from the wit, you would see an impressive display of almost steam-punk style mechanizations and a visualization of town balancing between desolation and renaissance, truly worth attention in any other year.
Should Have Been Nominated:
Again the curse of being an animated film works against the genuine talent behind 9. When will animated films be taken seriously?

Best Costume Design
Bright Star – Janet Patterson
Coco Before Chanel – Catherine Leterrier
Nine – Colleen Atwood
The Imaginarium of Doctor Parnassus – Monique Prudhomme
The Young Victoria – Sandy Powell
Going to Win: The Young Victoria
Take what I said about Makeup artistry and multiply it by 100 fold. The most decadent wardrobe always nails this category by a large margin, and with Victorian England being a noted favorite period for voters, it'll take a miraculous shift in policy for anyone else to stand a chance. Nine's musical roots (and relation to Oscar royalty Colleen Atwood) may put up a good fight, but in the end the British Empire will once again reign supreme.
Should Win/Dark Horse: Coco Before Chanel
The fact that it beautifully captures the life of a famous designer is just icing. Chanel reanimates the recent past to deliver a rack of eternally stylish pieces that erupt off screen, a true shame that it was nominated during a year that a British period drama was made.
Should Have Been Nominated:
Why did the Academy nominate Sherlock Holmes for Art Direction and not for its equally fantastic costuming? The absence of the deeply understated An Education is understandable, but the surprising quality of Julie and Julia is not.

Best Cinematography
Avatar – Mauro Fiore
Harry Potter and the Half-Blood Prince – Bruno Delbonnel
Inglourious Basterds – Robert Richardson
The Hurt Locker – Barry Ackroyd
The White Ribbon – Christian Berger
Going to Win: The Hurt Locker
While Cameron's markedly underappreciated skill with the camera is the obvious front-runner by most opinion, it's likely that most voters will see Avatar for its stunning visual effects and design, but miss the nuances of the frame during the non-action scenes. Hurt Locker, however, makes its abilities painfully obvious from start to finish, getting in the viewers face and forcing them to find fault with the brilliant visualization of one of the most intense jobs in the world.
Should Win: The Hurt Locker
Maybe I made it obvious before, but The Hurt Locker is film that's hard to walk away unimpressed from. Not since Children of Men has anxiety-drenched adrenaline been so perfectly captured on screen, with riveting camera dashes between blistering close-ups and frenetic handheld shots. As if you needed an excuse to tense up around bombs.
Dark Horse: The White Ribbon
Its nomination alone should give you an idea of what this foreign film's chances are in this category. Its natural beauty is a wonderful contrast to the constant tension of the other nominees, and for that reason it doesn't stand to have the best odds for anything but a surprise upset.
Should Have Been Nominated:
Why? Why did the Academy nominate the atrociously awkward Half-Blood Prince, especially when it meant blocking the more sensible contenders of District 9 and Nine? And worse, putting that tripe on a pedestal left no room for underrated gems like The Girlfriend Experience and The Taking of Pelham 1 2 3….WHY?!?

Avatar – Stephen Rivkin, John Refoua and James Cameron
District 9 – Julian Clarke
Inglourious Basterds – Sally Menke
Precious: Based on the Novel 'Push' by Sapphire – Joe Klotz
The Hurt Locker – Bob Murawski and Chris Innis
Going to Win: The Hurt Locker
Playing out the same scenario as for Best Cinematography, the grandeur of Avatar will work against its own artistic merit, leaving room for Hurt Locker to take prize. Long-time partnership Tarantino-Menke could pull a slim lead for first place. And for those that will root for Precious in all its nods, just know that this time around, it was fill-in candidate for a selection committee that couldn't think of anything else.
Should Win: Inglourious Basterds
There is a level of expertise that's on display in every second of Basterds, a whip-smart collaborative talent that only comes from years of working with the best. Menke is one of the greatest editors working in the industry, and Tarantino's scripts give her plenty of ability to deviate beyond the normal Hollywood style to deliver truly great cinematic moments. Here's hoping the Academy recognizes why Tarantino had a whole generation of film-goers named after him.
Dark Horse: District 9
Combining a documentary style with a pomp-action soul, Clarke's vision of District 9 is a varied and deeply intoxicating beast capable of both surprising action sequences and subdued socio-political commentary. Probably the strongest element working towards such a unreal story's believability, District 9 has a slight ray of hope of proving pop culture culturally valid. Not much beyond that, but it's there.
Should Have Been Nominated:
Editing is one of the most subjectively measured categories of the show, and the final nomination list is more than proof of that. Despite the flexible nature of editing appraisal, there were still some exquisite examples that were somehow passed up this year, not the least of which was Public Enemies, The Informant!, and Where the Wild Things Are.

Best Original Song
"Almost There" from The Princess and the Frog – Music and Lyrics by Randy Newman
"Down in New Orleans" from The Princess and the Frog – Music and Lyrics by Randy Newman
"Loin de Paname" from Paris 36 – Music by Reinhardt Wagner, Lyrics by Frank Thomas
"Take it All" from 9– Music and Lyrics by Maury Yeston
"The Weary Kind (Theme from Crazy Heart)" from Crazy Heart – Music and Lyrics by Ryan Bingham and T Bone Burnett
Going to Win: "The Weary Kind (Theme from Crazy Heart)"
Its popular success outside the film, and the nomination status of it beyond this category pretty much assures "The Weary Kind" its Oscar. Given that Princess' two songs will split its vote (which would not have happened if they had nominated the far superior "Friends on the Other Side" in place of "New Orleans") and no one has heard of Paris 36, its only competition is from a Rob Marshall musical that all the critics hated.
Should Win: "Almost There"
Don't find me sentimental or anything, it's a least of five evils kind of vote. For years now, ever since the Academy decided to distant itself from Billboard hits for some reasons, the "Best Original Song" category has been a well-tread solace for Animated Film themes and closing credit numbers that hurt the least when subjected to. The soaring high notes (and the film's best bit of inspired animation) make it the most palatable.
Dark Horse: "Loin de Paname"
Again, singular nomination putting forth the most favor for the nominee. A pretty basic tune with little flavor beyond nostalgia, "Paname" could sneak by as the musical-instinct forces a second split between Nine and Crazy Heart, but it has a 1000-1 chance at very best.
Should Have Been Nominated:
The Academy could have recovered a lot of face lost last year with a retroactive nomination of Bruce Springsteen's "The Wrestler." We promise to look away and accept it if you do.

Avatar – James Horner
Fantastic Mr. Fox – Alexandre Desplat
Sherlock Holmes – Hans Zimmer
The Hurt Locker – Marco Beltrami and Buck Sanders
Up – Michael Giacchino
Going to Win: Avatar
Horner's soaring mass-orchestral pieces will probably drown out the more melodic Desplat work and Zimmer's simplistic violin takes, and pretty much any piece of music is escalated when played in the background of the biggest action scene ever made at that point. Both Up was far too subdued, The Hurt Locker too sporadic for their own good, as well.
Should Win/Dark Horse: Fantastic Mr. Fox
As playful and unique as its director, the score to Fox was an ever-fluctuating collection of beautifully realized movements that borrowed across the orchestra pit with equal parts fervor and skill. The film's lack of nominations outside the category may actually work against it this time around, especially being the less popular "other animated movie" beside Up.
Should Have Been Nominated:
Did anyone double-check this section of the nomination tabs? How could The Princess and the Frog manage two "Best Original Song" nods and nothing for the full soundtrack? And why did the Academy pass up a genre-flick as born, bred and anticipated for the category as Nine? And why the odd bursts of affection for Up, especially at the expense of Inglourious Basterds, and Where the Wild Things Are? Care to show your work, Oscar?
Need some trivia knowledge to pretend you are a film buff around cooler people? Then listen to actual Academy members and former members discuss the nomination process, voting, the Oscar "season", producing a montage, and losing an award.