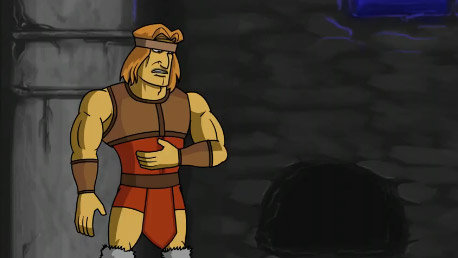 Elder-Geek Phil "Shamoozal" Summers has released yet another toon from his Read Only Memory series. We're always psyched to see his work. And we're even happier to share it here.
Here's what Phil had to say about his newest creation.
"So the idea for Simon's Supper obviously stems from the fact that in Castlevania games the protagonists usually find food stashed away in walls. Old monster walls. In a castle that's been around for centuries. Thought I'd have a little fun with that idea and play with it some. For Simon, I really like the "barbarian" style old school Castlevania characters and decided that was the best route to take for him. I like to think of Simon as something of a brute and I had some fun making him that way. In fact, the way he acts almost reminds me of our very own Frankensteiner. Also, my love affair for Ben & Jerry's Ice Cream has shown through in this one. I hope you enjoyed the second episode of Read Only Memory. Oh and don't forget you can watch it in HD. See you in a month!"
Please be sure to check out Phil's site Shamoozal.com for more of his work!