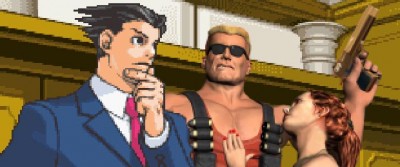 Like many things related to the most manly of 90s FPS characters, the lawsuit between 3D Realms and Take Two Interactive over the production rights of Duke Nukem Forever felt like it was going to keep going on…forever. However, the suit was recently settled out of court, a filing from a New York District court accepting the mutual claims of both companies to dismiss the suit with prejudice (which will prevent either company from filing similar suits in the future.)
The original suit was filed shortly after the dissolution of the 3D Realms company, Take Two suing over the assumptive cancelation of the eternally-belated title in the Duke Nukem franchise. 3D Realms then counter-sued, claiming the game to still be in-production, although no hints of current production status were gleaned from this recent settlement.
"Each party is to bear its own portion of the costs of this litigation, and each party further agrees not to seek any costs or sanctions," reads the official New York district court filing.