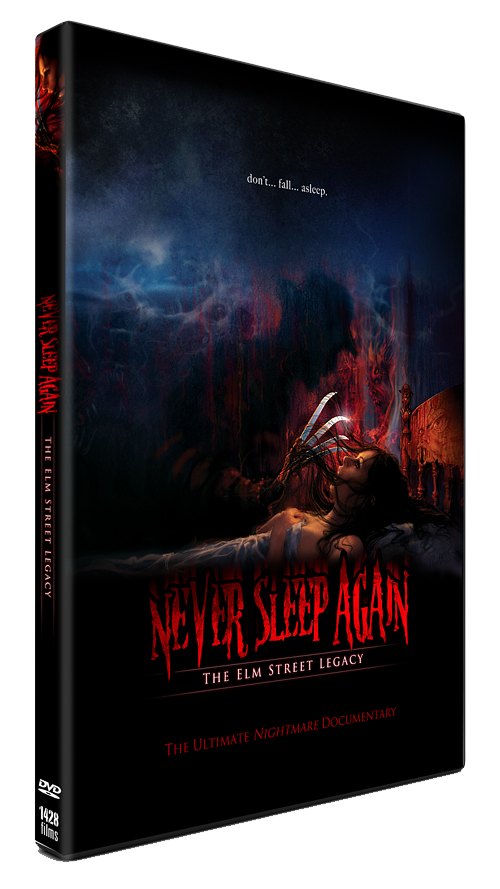 Just in time for The Nightmare on Elm Street Reboot, is the documentary Never Sleep Again that chronicles each of Freddy Krueger's adventures starting with the original Wes Craven classic, and ending with Freddy vs. Jason.  The film is comprised of literally dozens of interviews with a huge collection of actors ranging from complete no names, to pretty well known's who have participated in the films intermittently spiced between never before seen behind the scenes footage and movie clips. This is by far the most comprehensive of any horror documentary I have ever seen, and if you are looking for pure content, you will be overwhelmed.
Entering this review, I was prepared for the challenge of reviewing a niche' item. The difficulty breaks down like this;
obviously this is going to be a "must buy" for any Freddy Krueger/Horror fanatic, but is it worth checking it out for the average consumer, and from what perspective do I review it?
Luckily Never Sleep Again allowed me to avoid this controversy altogether. This documentary is a must buy Fred Heads, for horror fans, any fan of the general genre of documentaries, and just film geeks anywhere. Not only is it one of the most well put together documentaries in recent years, but the sheer quantity of actors, producers, directors, extras, presented in the film is by far the most cumulative collection I have ever seen. You will see everyone from Wes Craven, Robert Englund, all the way to individuals who played lineless extras on the set discussing intricate details of individuals scenes and influences .  The only notable actor missing is Johnny Depp, and it almost seems like at this point he may not have actually fit into B-List cornucopia that is Never Sleep Again. The creators from 1428 definitely exhausted the who's who of the Nightmare series address book.  The fact that so many, and I am talking over 100 individuals, are willing to come back and be interviewed for this documentary truly shows what a special experience it was to be involved in the process of producing these films.
I think it has become increasingly fashionable to make the filmmakers part of/stars of a documentary. See Michael Moore's ___________, Al Gore's An Inconvenient Truth, and Super Size Me as prime examples of what I am talking about. Never Sleep Again does not have this problem at all as the filmmakers are invisible and behind the camera as they should be. In order to deal with the transition between paradigms in Freddy's progression the filmmakers have come up with incredible little stop motion shorts that fit perfectly into Krueger's world. These provide a fantastic and fun interruption to the interviewing process, and often mock or recreate iconic scenes from the movies that were just discussed.
Although some enjoy the later Nightmare movies, I believe that it is general consensus that the movies followed the classic film genre sequel formula of progressing from scary –> disgusting –> funny –> cheesy. This is an interesting meta story told with this documentary as you see this transition happen before your eyes. Every set of stars claim that their movie was the best one and the most well received by the fans, citing reviews, gross income, or even iconic status as the Gayest Horror Film of All Time as evidence. There is a clear decay in creativity and quality that not only occur between the films, but also in the filmmakers and stars involved in the process. Starting with the masterful craftsmanship of Wes Craven discussing his process of creating the character using incredible techniques like color integration in Freddy's sweater, and the combination of myth, legend, and dream analysis in the story, and ending with the sheer insanity of Renny Harlin (12 Rounds, Cliff Hanger) discussing the need to make Freddy crash a beach party. The meta analysis I actually found more engaging than the story being
told. Especially following Robert Englund as he discusses reprising the role over and over again. It hurts me to hate on a legend of horror, but you clearly see throughout the film that Robert Englund self-esteem is truly engulfed in this character and that he is a slowly making a poor transition from being a living legend to being a forgotten has been with the likes of Bela Lugosi. Throughout the films his discussion of creating and evolving the character is both interesting and filled with melancholy as you see him progress trying to make sense of the existential dilemma of being a good actor performing in poorly made films.  You can expect Robert Englund to continue coming to Horror Cons near you until the time of his death as the fame and admiration of this character is clearly the source of his heartbeat.
The part I found the most interesting within the documentary was the discussion of the  not so covert homoerotic nature of the second film in the series. The sequencing of showing the actors/directors discussing composed with the clips from the film is just smile provoking fun. It hard not to laugh out loud as actors say they didn't notice the film had any Gay tendencies followed immediately by actors spelling off lines like:
Actor 1: I need to sleep here tonight!
Actor 2: Are you out of your mind?
Actor 1: Something is trying to get inside my body!
Actor 2: and you want to sleep with me?
These moments will have you roflcoptering all over the floor.
If there is any weakness in this film it's the length. The film clocks in at almost 4 hours long and this is not something you will be able to sit through all at once. In addition on the second disc there is an additional couple hours of content including a interview with James Rolfe a.k.a. The Angry Video Game Nerd, discussing the introduction of the video games and comprising his episode dedicated to it.  Although this is a weakness I found myself continuing to come back to the story over and over across the course of a week, and upon completion of the film adding all of the Nightmare films to my Netflix. What I am saying is that if too much content is actually a problem (which it generally isn't) that is the only weakness of this documentary. Just don't plan on inviting your friends over for a Fred Head party, because chances are you will not make it through all four hours without being restless to get up and do something else for awhile.
The documentary is a fantastic and very welcomed piece to film history. I would doubt that any documentary could call itself more comprehensive than this one. If you are a Fred Head and you don't own this…then shame on you. If you have ever watched more than one of these films chances are you will find this interesting, and if you haven't then you will want to upon completion of it. I would like to solute the independent filmmakers over at 1428 studios for their diligence and the amount incredible hard work it must have taken to produce this film.
Bonus Features:
Extended Interviews
First Look: Heather Langenkamp's "I Am Nancy"
For the Love of the Glove
Fred Heads: The Ultimate Freddy Fans
Horror's Hallowed Grounds: Return To Elm Street
Freddy vs. The Angry Video Game Nerd
Expanding the Elm Street Universe: Freddy in Comic Books & Novels
The Music of the Nightmare: Conversations with Composers & Songwriters
Elm Street's Poster Boy: The Art of Matthew Joseph Peak
A Nightmare On Elm Street in 10 Minutes
Never Sleep Again: The Elm Street Legacy Teaser Trailer
Additional Information:

Release Date: May 4, 2010
Number of Discs: 2
Presentation: Widescreen
Aspect Ratio: 1:85:1
Format: Color
Language: English
Sound: Stereo
Subtitled: English
Running Time: Disc 1 (feature presentation) 240 minutes; Disc 2 (bonus features) 240 minutes (total running time: 480 minutes)
For Region 1 use (US and Canada) only