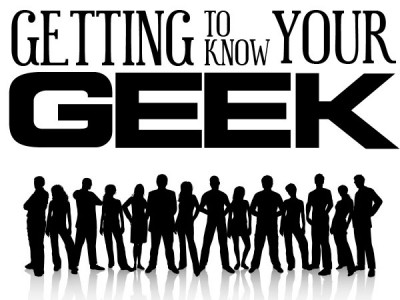 Here at Elder Geek, you, the reader, spend countless hours surveying our reviews, previews and articles. Well, we really appreciate it and, honestly, we would like to get to know you a little better. We weighed the option of taking all of our readers out on a candlelit dinner, but we simply didn't have the finances and collectively can only socialize in a virtual setting. So, in order to introduce ourselves to you, we decided that we would tell you a little about ourselves in this feature titled "Getting to Know your Geek". Here, we ask our staff the less-than important questions and hear what they have to say.
This month we asked the staff "What was the most you have ever raged while playing a game?"
Here's what they said:
Gavin Greene (News Editor)
I can deal with underwater levels, I can deal with sewer levels; but for the life of me, the bane of my gaming existence is turret levels. The worst was 2/3rds of the way through Wanted: Weapons of Fate, a disastrous mounted machine-gun abortion of a chapter which put you atop the upper
-perimeter of the main location of the game's elite assassin force. As you suffer through the temperamental handling of the gun itself, wave after wave after endless goddamn wave of repeating enemy character models pop from every nook and cranny in the place.
Not in a challenging, whack-a-mole kind of way mind you, but an abusive, meant-to-get-you-to-rip-your-spine-out-through-your-nostril kind of spawning algorithm. Such a testicle-blister of a stage would be a momentary aggravation if not for the exacerbated length of it all, the
 body count rising well beyond most Call of Duty games within the first three minutes. After a literal 56 attempts (I counted them by the head-shaped holes in the adjacent wall), I begrudgingly sunk down to the depths of the troll and internet-ed my way to victory. In the shame that
 still lingers in my trophy count, the mounted machine-gun chapter of Wanted: Weapons of Fate remains in my mind…taunting me…
Kipp Pietrantonio (Feature Writer)
He looked over me as a lie on the canvas shuttering in pain for the third time.  It was difficult to predict when he was going to strike next, as his movements were erratic  and spontaneous,…he was fueled by the bottle. His bald head, lack of clothing, and pink subtle glow should have been an indicator  that this would be a long and painful night. He ruthlessly pounded my face over and over, and I was defenseless. I had long ago lost the heart to even attempt to put up a defense. I thought of the good times back with my friends Joe, Kaiser, and the King, but those times were over now, and he relentlessly shoved his fist deeper into me. His bald head shined as a small Mediterranean man with a thick black mustache looked on disapprovingly, desperately calling for me find it in my disheveled body mount some form of attack. I simply could not, and I'll never forget one thing…his laugh. He looked down at his work, and laughed at what he had done to my body. There was not a trace of empathy, or human decency left in this man, and he cackled over me, as I lay eclipsed in his shadow. Damn you Soda Popinski…Damn you…
Justin Johnston (Staff Writer)
Without a doubt, the game that made me rage the most was Call of Duty 4: Modern Warfare.  Hearing this, you may think I'm referring to the online community, and this is certainly true to an extent.  An average session online would see my competitors questioning my sexuality, my skills, my mental development, and my relationship with my mother.  But what made me rage was the obsessive pursuit of one accomplishment.  I, of course, refer to the Mile High Club.  Before we all climb into the gutter, please know that I'm referring to the difficult task of beating the final mission of the single-player campaign on the hardest difficulty.  You had to make your way through a plane which had been taken over by terrorists, shooting your way through the compact space and avoiding enemy grenades, hull breaches, and more.  At the end you must kill a terrorist who is using a VIP as a human shield.  To top things off, you had to do this all in sixty seconds.  This requires perfect aim with the MP5, wired reflexes, expert use of grenades, and rote memorization of enemy spawns, weapon drops, and scripted events.    At first I responded to this challenge with rage, but as the hours passed and one unsuccessful attempt stacked on top of another, my rage turned into a single-minded focus.  I didn't move from my spot on the couch until at last I jumped from the falling plane, VIP in hand.  What started out as anger turned into sheer determination, and twelve hours later I had my achievement.  Guess it just goes to prove a point: sometimes in order to get something done, you have to get angry.
Randy Yasenchak (Head Geek)
The last time I can honestly remember getting SUPER frustrated to the point of physical outrage with a game was the summer of 1994. I was 15, and my parents house was not air-conditioned yet. To counter the heat, I did as little moving as possible and settled into some Super Metroid action. The little cuddly inter-galactic koala space monkeys were trying to teach me how to wall jump. Try as I might, I could not get the wall jump to work properly and just before I'd reach the very top of that now-famous shaft, I would miss the wall and Samus would plummet all the way down to the bottom. I was forced to start the arduous climb all over again.
I can't remember what album I was listening to at the time, but I remember the CD started playing from the beginning again and I had realized I was doing the same insane sweaty motions with my controller for about 45 minutes straight.
Tune in later this week to find out what the rest of the writers had to say!