When I was a boy, I used to hunt with my uncles. Self-admittedly, I was an absolutely terrible shot. I think in my short hunting career I probably only managed to bag one small animal and I'm sure that one animal was too stupid to not be eaten if he got shot by someone like me. But before I'd go hunting, we'd practice shooting and I was always taught the same thing.
"Aim for the heart."
I no longer hunt. I find it easier to stalk my prey in the meat section of grocery stores or the burger section of bar menus. Since I'm also completely incapable of waking up before the sun, I'm only able to hunt the very lazy animals. Turns out there aren't very many of those.
Police, law enforcement and the armed forces are told something very similar. They aren't told to "aim for the heart" but more specifically, they're told to aim for the "center of mass."
In video games, especially in multiplayer matches, we've learned that the head shot is the quickest and easiest way to dispatch our enemies. We've been playing with that unwritten rule in our heads for over 10 years now and developers have been designing games around that very same law. Actually, it's a few unwritten laws.
1. Head shot = insta-kill… always.
2. Body shot = heavy damage.
3. Limbs and appendage shots = minimal damage (similar to mosquito bites).
I'm asking that we now take our vital organ zones in video games and evolve them one step further. Let's put the chest back into the vital organ list.
My rationale: it's hard to live, let alone pick up a gun and shoot, when you have a hole in your chest cavity. A malfunctioning heart or lung will do that to you. Call of Duty: World at War seemed to have gotten it right.  Unarmored enemies were incapacitated by shots to the chest. The Nazis in Call of Duty 2 seemed to take a few rounds to the chest before having their war-making abilities hindered. Certainly there have been people getting up after a bullet to the chest, but they're the exception, and not the norm.
But what about body armor, Randy?
Yea, yea… I was just getting to that.
While body armor has certainly saved hundreds, if not thousands of lives, it doesn't make a person's chest completely invulnerable. From my understanding, it still hurts like hell when you get shot even while wearing body armor. Metal objects flying at 3000 feet per second will do that to you. Just check out this guy who decided to take a 9mm round to the chest while wearing body armor. Keep in mind, 9mm rounds are ridiculously small and travel very slowly compared to assault rifle rounds.
Ok… now imagine if he was shot with a .50 caliber sniper rifle while caught unaware. That guy would be on the ground in an instant. Wearing the type of armor he's wearing now, he'd be dead for sure. But pretending he was wearing full ceramic-plated body armor, like most modern militaries wear, he'd still be laying on the ground and he'd be thanking his lucky stars if he was still breathing.
But bigger body armor isn't always the answer.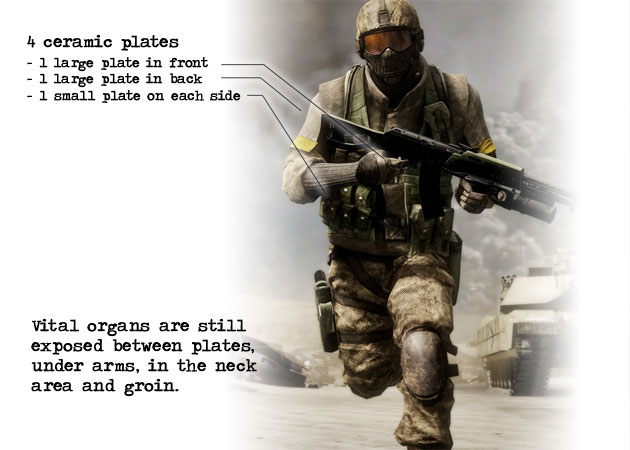 In current day body armor, there are still weak spots between the ceramic plates and under a soldier's arms. In this photo of a Battlefield Bad Company 2 soldier, he's not wearing groin protectors, nor is he wearing shoulder protectors in his vest. I feel those areas should be considered as "vital" in video games depending on the angle of the shot and the type of gun that is being fired.
I also think that soldiers in games should be knocked down if hit in the chest by a sniper round or a few assault rounds at close range even if the rounds are absorbed by the body armor and don't kill the player. I also think that body armor should be able to stop some rounds more easily than others. That should stop those pesky players who manage to stab you in the face after absorbing five rounds to the chest from your M4 (Don't get me started on knife kills.).
Am I asking too much? I really don't think so. Considering BFBC2 was able to calculate bullet drops based on gravity and other games like Singularity were able to completely slow down bullet speed in controlled areas, I don't think it's unrealistic for designers to create a vital set of organs that need to be protected by a soldier's body armor. Would it be a pain to develop? Probably. But it would be incredibly cool.
So, I'm not calling for more "realism." I'm really just looking for a more immersive shooter. Graphically and environmentally, we've grown by leaps and bounds in video games over the past 10 years, but damage areas on player models have remained the same.