By Oliver Surpless
Castlevania had reached the Nintendo DS in 2005, which was a pretty lackluster year for the DS. It was titles like Dawn of Sorrow that not only made me purchase the hand-held, but it gave me relief that it would cater to both old and new gamers alike, with new innovative touch screen games like Feel the Magic as well as traditional games like Dawn of Sorrow. All was looking right in the hand-held world.
Dawn was more than just the first DS Castlevania game. It was a refinement of Castlevania with plenty of new features as well as surprising homages to past games.
Castlevania: Dawn of Sorrow is the first direct Castlevania hand-held sequel, taking place one year after the events of Aria of Sorrow. I will try to avoid spoilers while discussing the story, thus accomplishing what even the back of the DS case couldn't.  Soma Cruz and Mina Hakuba have moved on with their lives in the year since the eclipse that saw the return of Dracula's Castle and the awakening of Soma's destiny. Suddenly a mysterious woman appears before Soma, identifying herself as Celia Fortner, the leader of a chaos cult, claiming she will see the end of his life. Genya Arikado warns Soma to stay away from their castle while he and Julius Belmont handle the situation. Of course, Soma doesn't take threats idly, and travels to the cult's hideout, thus beginning the game. Familiar characters and some new ones are shortly encountered.
The graphics in Dawn of Sorrow are the source of mixed opinions due to radical change in the art direction of the game. The previous game maintained Ayami Kojima's illustration as the basis for the character model. In Dawn, Soma and the others have been redrawn to a more anime-ish style. Some reviewers criticized this change, comparing it to bad Saturday morning animation. I have to disagree; Dawn's graphics are simply a different style and I enjoy the world that they create just as much as Aria's graphics. It is even better in some cases; Yoko is pretty nice looking now.
Being the first Castlevania on the DS, fans expected a noticeable upgrade in the 2D sprites, and Dawn delivered in spades. The backgrounds benefit, especially in the Clock Tower with its stain glass windows and also in the Demon Guest House with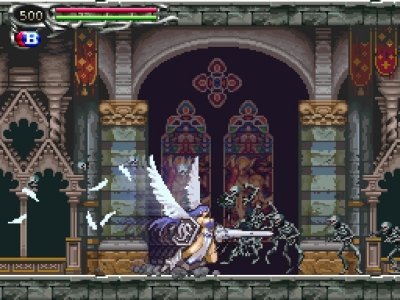 its eerie presentation. The inherent strengths of the 2D perspective are presented in Dawn of Sorrow for the first time on hand-held. Between the zoomed out look of Circle and the opposite in Harmony of Dissonance's, Castleroids have been lacking a true identity on hand-helds. This identity is fully realized in Dawn of Sorrow, with great animation for spell like souls and weapons alike. IGA gave a great quote to Nintendo Power shortly before Dawn's release in which he mentions how "big screen filling weapons" are inherently more apparent in the 2D perspective, and Dawn of Sorrow certainly uses this perspective to full effect. Many of the forged weapons have such attacks, and they are a great visual treat.
When it comes to music and audio, I was really looking forward to this game's soundtrack. The Gameboy Advance, despite being a portable SNES in many respects, was often unable to reproduce the great music in SNES ports. I hoped for more in the DS' audio capability, and I was not disappointed. The music is once again composed by Michiru Yamane and also by Masahiko Kimura, who worked on the N64 Castlevanias. The greater audio capability is used for higher fidelity renditions of Vampire Killer, Bloody Tears, and Beginning, the latter two of which replace new tunes when playing a bonus mode. Impressive new pieces include Dracula's Tears, the Pinnacle, and Pitch Black Intrusion. This was the first hand-held score I purchased and still regularly listen to. A very good score overall.
Sound effects are top-notch, with character grunts when swinging weapons, some random Japanese when using weapons, spells, or when hit by enemies. I also like the many different death throe sounds of the enemies. Good stuff.
DOS's gameplay is an evolution of the Soul System first used in Aria of Sorrow; it is now dubbed the Tactical Soul system. The big changes are that you can hold two complete and different sets at the press of a button once you obtain a key item. There are also soul combinations now, involving the use of two souls at the same time for new or modified attacks. Some are obvious and others not so much. Obtaining souls is done in exactly the same way. Some are found, but you must defeat enemies for most of them. Sometimes this leads to quite a bit of grinding (Alura Une and Iron Golem, anyone?)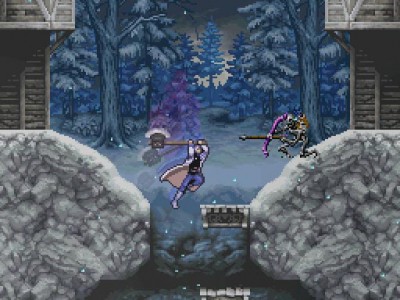 This grinding for the best souls is exacerbated by another modification. Souls now have levels, different for each enemy. You must obtain a total of nine souls for each soul to be at their most effective. This can be tedious to accomplish. At least the souls look different as you gain more of them.
These extra souls that you can obtain are also used in the forging of weapons, another new feature. Because Yoko Belnades is the NPC who does this for you, it isn't forging as much as instill the soul's power into your weapon though. Anyway, you take existing basic weapons, like swords or axes, and by merging souls with them, you can gain more powerful versions or totally new weapons. This system is interesting and the best weapons are obtained this way, making it worth the time investment.
Lastly, we had the unfortunately tacked on DS features. I'm not sure why Dawn bothered with this, as the touch screen or microphone are not really needed for Castlevania, but I guess they wanted to try something. The touch screen is utilized in defeating bosses through the use of magic seals as well as the way you use some souls. For magic seals, you have to use the stylus to draw a pattern on the screen upon defeating a boss, or they will be revived. The seals start easy, and quickly become a chore. This feature was not missed in later DS Castlevania games.
The challenge in this game has been increased from Aria of Sorrow, mostly because the strongest souls are obtained later in the game, and the healing souls are less abusive in this game. Alura Une is completely different, and has more appropriate actions when you think about her as an enemy. I was glad to see this change because even though the game is still only as hard as you make it through leveling, it still requires some finesse.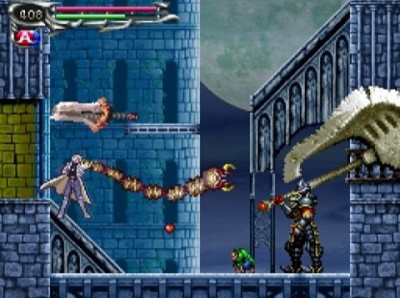 The bonus mode is a unique challenge, as it is an homage to Castlevania III: Dracula's Curse. It isn't as hard as Curse, but no items as usual and healing is done in an unorthodox way. In many ways, I think this mode is more fun that the standard game, especially because you don't have to farm souls. This was the first Castlevania hand-held in which this was the case, and it would continue in Portrait of Ruin with further superlative bonus modes.
Replay value is again very high due to the welcome return of new game plus. This really gives the incentive to try to get all 9 of those souls, even from the most difficult enemies. The last playthrough I used a 3-soul combo that was new to me, and it was definitely a different experience. Kudos to the developer for continuing this, if only in the hand-helds.
In summation, Dawn of Sorrow takes the best of Aria, mixes it up with some new and unique stuff to create a better all around game, and one that also appeals to veteran Castlevania fans because of the bonus mode. The creators really seemed to be aware of the fans for this installment, and chose the suitable DS Castlevania game premiere to really show their stuff.