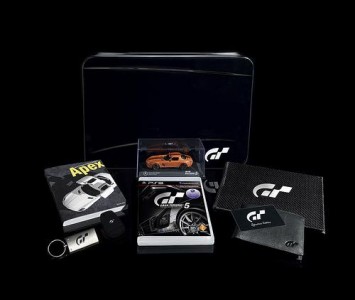 Polyphony Digital obviously knows where its bread is buttered. The Gran Turismo driving simulation franchise has always had some of its strongest roots in the European Union, and the developer is looking to keep sales high in the area by offering a regional "Signature" edition of their upcoming Gran Turismo 5 to European gamers.
Equipped with a wallet, a 1:43 scaled replica Mercedes Benz SLS, and a coffee-table volume showcasing locations and car models featured in the game, all contained within a special sculpted metal casing. Most alluring perhaps is the addition of a contest entry with each "Signature Edition" purchase, the grand prize being a literal Mercedes Benz SLS AMG for the winner to drive around in. The bundle will be available at the game's November 2nd launch for 180 Euros.
"Those lucky enough to get their hands on the Signature Edition (quantities are going to be strictly limited) will be able to enter an extraordinary competition that will combine in-game and real world driving challenges – the prize at the end of these two stages? A real Mercedes-Benz SLS AMG supercar," said Sony European Brand Manager Penrose Tackie at the edition's reveal.
In addition, a 6-car DLC pack was announced, featuring a Mazda 787B, Honda NSX GT500, Audi R10 TDI, Nissan GT-R GT500, McLaren F1, and the aforementioned Mercedes Benz SLS AMG. This "Stealth Line" pack, unlike the "Signature Edition", will be made available for all regions.