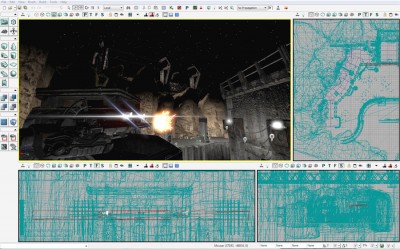 Gearbox Interactive, the holders of the rights to the Duke Nukem franchise as well as the developers of next year's Duke Nukem Forever, have given their official permission to a group of fans to remake the seminal game in the 90s FPS series. Providing the project remains not-for-profit, the fan team lead by Fredrick "Fresch" Schreiber can follow through with their plans of rebuilding Duke Nukem 3D from scratch with the Unreal Engine 3.
"A few weeks ago, i played with the idea of a Duke Nukem 3D revision, made on Unreal Engine 3 Tech…[I] made a 'Test' map, of what it might look like," wrote Schreiber on the forums, "Then I took some screenshots and posted them on this board for everyone to see. All hell broke loose! Suddenly the news of a remake, was all over the internet, even though the development was neither approved by Gearbox nor 3Drealms."
Known as Duke Nukem Next-Gen, is still in the early stages of a planned 12-month development process.