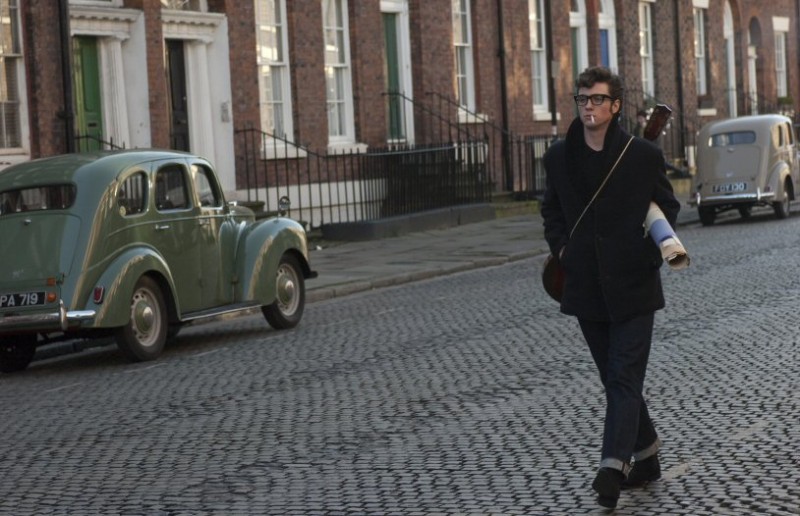 When people think about John Lennon they usually think of the Beatle with the moptop getting chased by a stampede of fans, or the peace loving, anti-war solo artist. What usually goes unnoticed is the adolescent Lennon trying to break into the world of rock and roll, and Nowhere Boy is here to remedy this. Directed by Sam Taylor-Wood and starring Aaron Johnson as John Lennon, Nowhere Boy explores the life of Lennon as a teenager and how he ended up transforming into one of the most famous celebrities in the world.
Nowhere Boy gives us a glimpse of how John Lennon lived his life before he was famous. The story mostly revolves around the relationships between him, his aunt Mimi and his mother, Julia. John was raised by his very strict aunt who was completely against him becoming a musician, so he often went to stay with his mother who was much more free spirited and encouraged John to play music. John himself was not the wacky personality found in various interviews with The Beatles or even in the film A Hard Day's Night. In the film he was portrayed as cocky, short tempered and like most teenagers, rebellious.
While the evolution of the relationship between John, Mimi and Julia was a large part of the story, John's musical talent and ambitions take center stage as well. When John would retreat to his mother's house she would give him guitar lessons, which turned into John starting his own band where he eventually meets two of his fellow Beatles. Overall Nowhere Boy does a great job of telling the story of Lennon's struggles as a teenager and his transformation into a rising young star.
The pacing of the story was also well done. Everything happened in a timely manner with only a couple instances of problems being solved a little too easily. John's emotions ran rampant throughout the film. Like most teenagers, he was happy and joking around one minute, and angry the next. However, the frequent emotional changes keep the viewer engaged and the drama interesting.
The overall look of the film really reflects the time period and the rise of rock and roll. Throughout the film John and his friends emulate musical icons like Elvis and Buddy Holly. The wardrobe, especially during the concerts, and the set designs blend right in and did not look out of place. The overall cinematography is not ambitious by any means, but for a biopic film like this it does not need to be.
To say that Aaron Johnson played a good John Lennon would be an understatement. Johnson captured Lennon's wit and confidence, but he could also keep up with all of the different emotions as well. The rest of the cast also fit their characters very well. Kristin Scott Thomas as aunt Mimi, was strict, but you could tell she loved John without her having to express it outright. Annie-Marie Duff as John's mother Julia was very playful and flirtatious (even with John) and there were times when you would think she was a teenager rather than John's mother, but given her character, that was intentional. Most of these roles sound difficult to fill, but the cast does a great job in making the characters believable and full of life.
When I started watching the film I was afraid that Beatles music would start playing and feel really out of place, seeing as they did not even exist in the movie. My fear almost came true as I heard the famous opening chord from "A Hard Day's Night" play during the opening scene, but I was very thankful when the rest of the song did not follow. Most of the soundtrack consists of rock and roll music from that time and it fits in with the film very well. It helped supplement the movie by playing the music that Lennon and his band were trying to emulate.
While there is no Beatles music in the movie, there are some references to the band and their work. Some are obvious like the opening scene playing the first note of "A Hard Day's Night" while a young John Lennon runs from seemingly nothing while looking over his shoulder, and others were a little more subtle like when John and his friend bike past a gated entrance labeled "Strawberry Field." Even though I was glad that no Beatles music was featured in this film, small references like these were a nice touch.
While Beatles fans will definitely want to purchase this one for their collection, the film does a great job of standing on its own. It tells the interesting story of a teenage John Lennon and his relationship with his mother and his aunt very well, and the acting is top notch throughout. The movie fits the time period very well in both visual artistic choices and the soundtrack, and the small Beatles references are a cool addition. Overall Nowhere Boy is definitely worth checking out, Beatles fan or not.