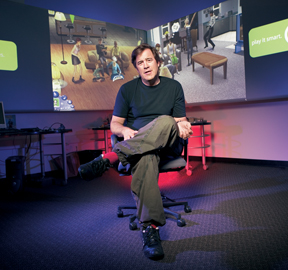 Bing Gordon may not be a name as hip to know as Tim Schafer or as popular to hate as Bobby Kotick, but the former Chief Creative Officer at Electronic Arts is important enough to be receiving a Lifetime Achievement Award from the Academy of Interactive Arts and Sciences. Gordon is considered to have laid the foundation of the EA Sports brand, after rising from the company's marketing division in the mid-80s. The award will be handed out on February 10th, at the 14th Annual Achievement Awards during the D.I.C.E. Summit in Las Vegas. This is the Academy's 5th Lifetime Achievement Award that they have handed out.
"Whether it is developing a new ground breaking marketing campaign, running one of the largest video game industry publishers or taking a risk and starting over with social gaming, Bing has left a lasting mark on the video game industry," said Martin Rae, AIAS president. "He really believed in the video game industry and dedicated his life to nurturing and growing the industry into what it is today. Always ready for a new challenge he saw the same potential in the social gaming category and took on this frontier, an industry that has really erupted and has really changed this industry."
"It has been my pleasure to be one of the foremost translators of Binglish," said Richard Hilleman, chief creative director, EA. "Bing has had a clear view of our industry, often focusing on the product, marketing and business issues that will define the program before most people even understand the concept. His contributions to business planning live on at Electronic Arts and many other organizations."
"Bing is clearly one of the key visionaries and drivers who helped shape the video game industry," said V. Paul Lee, managing partner, Vanedge Capital. "He has been a mentor, friend, partner and advisor, not just for me, but for a number of the key leaders in the industry. Bing also has more fun than anyone I know – and his zest for life informs an equally impressive intuition for consumer and lifestyle trends. He understands change because he has such a great time living it."
"The scariest thing about Bing is that he's usually right," said Mark Pincus, Zynga CEO.
"From a small group of outliers and contrarians, we have grown to an industry that changed media usage, and proved that interactive really is better," added Bing Gordon himself.