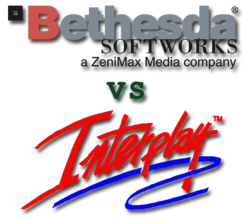 In one of the longest running industry lawsuits not involving Bobby Kotick or the guys at Respawn, the folks at Bethesda have released a new statement in light of the progress of their legal battle with Interplay. Pete Hines, Vice President of Public Relations at the developer-publisher, responded directly to earlier sentiments expressed over the true holder of the IP rights for the Fallout franchise. Speaking to VG247, Hines simply stated that "We own the rights to the MMO…We own the rights to everything Fallout."
"The license is ours. Fallout belongs to us. That's what I'll clarify. Beyond that, I'm not commenting on anybody else's comments. It's a legal matter. A specific MMO or project or any of that stuff, the lawyers are all going to sort it out." Hines continued.
Eric Caen of Interplay sent an email to VG247 to clarify his own company's position, "When we sold the IP, it was clear that the MMO could be developed by Interplay. Then we received a unilateral termination letter…Since that, we are only asking either to continue the development, either to get this contract cancelled as the consideration would not have been received in full."
At the same time, a seperate interview with Caen and Eurogamer had the developer laying out the plans for the future of Interplay and Fallout.
"We sold the Fallout IP to Bethesda in exchange for a certain amount of cash and the right to do the Fallout MMO. If they refuse to let us do the game, then the sale of the IP is terminated, and they will be allowed to do only one more Fallout, 5," he explained.
"But in that case, the IP will come back to us, and of course, we will complete our work and release Fallout MMO," Caen continued. "The original licensing deal was for three games and their DLC. So they already did Fallout 3, then Fallout: New Vegas, and they can only do one more Fallout, 5, if the sale of the IP is cancelled by the court."