Validation is a powerful force.  So many ventures in entertainment, be they music, films, books, or video games, can be made successful by one positive review or award nomination.  Take, for instance, relatively small films like The Hurt Locker or The King's Speech.  These films were placed in the public eye because of the attention they received from major validating forces such as the Academy Awards and the Golden Globes.
This Sunday's Grammy Awards are no different.  Receiving a Grammy nod is a great honor, but sometimes the buzz generated by a nomination has more tangible benefits than the pride one might derive from the achievement.  While his Baba Yetu bears the geeky distinction of being the first song from a video game ever to be nominated for a Grammy, composer Christopher Tin is justifiably focused on the benefits his career might reap from the attention.
Having studied at the prestigious Royal College of Music in London and worked under prolific film composer Hans Zimmer, Christopher Tin has contributed to scores for numerous commercial, television, and film projects.  His contribution to the world of video game music came in 2005, when Tin's former college roommate Soren Johnson asked him to compose the theme to Firaxis' Civilization IV.  The now-famous Baba Yetu won accolades from fans and industry professionals alike.  The striking piece, inspired by a Swahili translation of the Lord's Prayer, received two awards from the Game Audio Network Guild and has been covered by numerous performing groups such as Video Games Live and the University of Maryland Gamer Symphony Orchestra.
In an interview with Elder-Geek, Tin discussed how fan interest in Baba Yetu inspired him to compose more globally-inspired music for his first album, Calling All Dawns.  After the release of Civilization IV, Tin received numerous requests from fans of the game asking for more music like Baba Yetu.  This led Tin to conceptualize his album with Baba Yetu at its core.  What resulted was nothing short of spectacular: Calling All Dawns is a celebration of the universality of the human experience, the cycles of life and nature, and the commonalities that bind individuals regardless of language or origin.
This album may never had existed had it not been for Civilization IV – a fact made all the more amazing when Calling All Dawns was nominated for Best Classical Crossover Album and Baba Yetu for Best Instrumental Arrangement Accompanying Vocalists.  Were Tin to take home either of these awards, it would serve (to some gamers) as the long-sought validation of video game music as a respected genre.  However, gamers should be more concerned for what this opportunity might mean for Christopher Tin and other aspiring composers.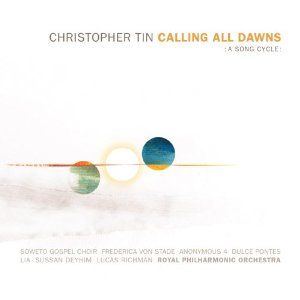 Surprising as it might be for a composer with such a strong background, Tin related to Elder-Geek how the hardest part of finding work in the music industry is getting people to return his phone calls.  The Grammy Awards could be a major break for Tin's career.  That's what really matters on Sunday.
Gamers should be happy if he wins, but not because a panel of judges liked Christopher Tin's work on Civilization IV (and by extension, video game music in general), but because it may lead to more opportunities for Tin and more amazing music.  The gamer community helped encourage him to make his first album, and they can do the same for other artists.  What results might not always be Grammy-nominated material, but Tin's story stands as an example to other artists of what can happen when they compose quality music for games.   In short, gamers don't need to be told that game music is great, but gamers do need to encourage more artists the same way they encouraged Christopher Tin.  That's what sets the game music apart, and that's what gamers should be proud of on Sunday.