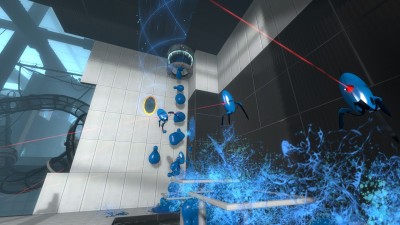 When Valve throws their weight behind a platform, they never seem to do so lightly. After studio head Gabe Newell announced that the PS3 version of Portal 2 would be the "best version on console", the studio has followed up with Steam Cloud saves, cross-platform play, and a PC digital copy of the game included for free with each new PS3 copy. If that wasn't enough, PS3 gamers can expect Move support for the puzzle-shooter. Support isn't fully integrated in the game, but is expected close to the game's April 20th launch.
"We made a mistake back then and gave the Orange Box console versions to an external team. They did a good job, but didn't quite achieve the same quality level that we have at Valve. Now everything happens in-house, we created a special console department just for that." Chet Faliszek, Valve's "Mr. Awesome" told the German Playstation blog, "So the move to the PlayStation 3 comes late – we're sorry for that. As a small compensation we have PS3-exclusive cloud saving, a free code for PC and complete PlayStation Move support…Look at it as a compensation for Left 4 Dead."
Faliszek added: "Move is also a completely new experience for us, thus the system isn't fully integrated yet."
[Interview translated by Eurogamer Germany]
Could Portal 2 motion control work? Are you said that Faliszek and Valve never got Left 4 Dead on the PS3? Tell us below!