Author's Note: For a leaked version of the actual show's schedule (and an audio clip of James Franco's horrid singing attempt at being Cher), go here.
The future of the Academy Awards is uniquely susceptible this year. The choice of Anne Hathaway and James Franco – neither of whom is a comedian, the latter of whom is nominated for a major award – as the show's dual hosts has been met with lukewarm skepticism at best, and some of the higher profile snubs have large segments of the film buff populace thumbing their noses at the ceremony before it even begins.
But as an effeminate Persian rock-star in hot pants and a police officer's hat once said, The Show Must Go On. So come Sunday, February 27th in Los Angeles, the red carpet will be rolled back out and the 83rd Annual Academy Awards will be underway. To make sure you have an inside edge into your local quasi-legal Oscar pool, and to make watching the event slightly bearable, let me fill you in on the juicy subtext that lies behind each nomination. The movies most likely to win each category will be presented in bold, with my preference (if different) being italicized.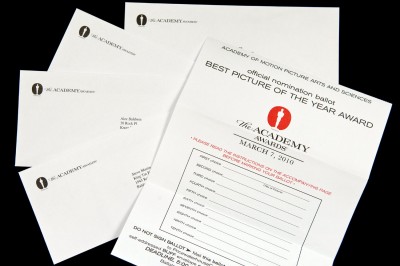 As always, there are 24 categories with between 3 – 5 nominations each, covering a range of production skill. To help you out in each category, I've linked to clips (or whatever copyright law and production companies have allowed) emphasizing whatever quality or skill is being nominated, so you can judge for yourself what each film brings to the table. So now, before I let myself get too heavy on the exposition, let's go through each category and have some fun picking apart the prestige at the seams.
And the Nominees are…
Short Subject Documentary

Let's start off by getting through the categories that 90% of Academy voters could care less about. With little public image to drive ratings, these features – despite often having infinitely more creative potential with their less risky budgets – are usually the lowest priority for voters that have bigger, multi-nomination films to sit through first. The Short Subject films, especially the Docs, are thus the absentee voting ballots of the process; always sitting there, always pushed back.
All sympathy aside, this year's batch is even more ethnically and politically diverse than usual. Subject-wise, Killing in the Name has the strongest pull: with its focus on the always relevant subject of Muslim extremists. "Strangers No More" could pull a win with its Israeli school setting and racially varied cast, but with terrorism being the alarmist's constant companion, Muslim bombers will pull more knee-jerk heartstrings. Sad, considering both the intimate portrait of the not so intimate "Poster Girl" and the ruggedly shot The Warriors of Qiugang are simply more interesting to watch.
Animated Short Feature [Video]

The lighter side of the Pixar tradition at the Academy usually guarantees whatever short that precedes their latest to at least get  nominated. As the one that both viewers and voters have seen without having to know someone in animation, there's always the chance for "Day & Night" to nab the easy vote. "Let's Pollute" also has the blunt lifestyle message (this time right in the title, convenient!) that these lovable liberal eggheads love, but it's The Gruffalo – with the "adapted from a beloved Children's book" card – that is the analyst favorite. That, and it was featured on BBC, and the Academy loves anything UK (hence "The King's Speech" being nominated in…anything).
For those that just want a good short, Madagascar, a Journey Diary sports a variety of animation styles, all wonderfully realized.
Live Action Short Feature [Video]

Na Wewe has the combat-torn style of drama that's century old Oscar bait, and its in French-speaking Africa, the most Academy-beloved part, leading many to believe the voters will color within the lines this year. "The Crush" is…well…just adorable, plain and simple, key emphasis on "simple".  The Confession manages a wider breadth of narrative emotion than most full features, but – like "The Crush" – may strike voters as too uncomplicated. If you care enough here to vote for a dark horse, the wry, bleak "Wish 143" is your movie.
Sound Mixing
With only "Salt" providing enough of an obvious sound track to poise a threat, its near impossible that Inception doesn't win here. The blockbuster simply reveals in both slow motion emphases and bombastic surround sound moments, and it will likely be the only film in which any one could even come to mind when they remember the word "foley". Sure, voters could choose this spot to award the not-likely-to-win-elsewhere "True Grit", but bank on the dream thieves to slip away with this one.
Sound Editing
Inception, and for the same logic. Largely because it's hard for most to differentiate between these categories. Can you describe the difference between Sound Mixing and Sound Editing? I can guarantee most voters can't. Similarly, the Academy could possibly reward their favorite modern directors here, instead of Mixing, with a win for "True Grit". Unstoppable, despite being the most visceral of the bunch, is hindered by the fact that it's even more of an Academy-resistant action flick than anything Nolan's brought to the ceremony. That, and this being its only nomination doesn't help its chances. Double that for "Tron: Legacy".
Art Direction [Video]

Often confused for the "Vote for Which Film is the Prettiest" category (a staple at the People's Choice Awards), the Burton design department mixed with 50s flashbacks will shove Alice in Wonderland over the edge. Sad, considering Harry Potter and the Deathly Hallows: Part 1 is being held back by its franchise's tendency to over-indulge with a singular style. If the Academy wanted to prove it can dig deep, "The Social Network" could surprise with its talent to make the 2003 Harvard campus and dueling meeting rooms equally engaging.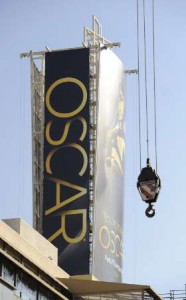 Makeup [Video]

The Wolfman wins. No way all that hairy, Rick Baker-lovin' camera mugging could go unloved by the visually superficial Academy. The nomination of "Barney's Version" proves that there aren't enough makeup artists in the voters block, if the fact that there are only three nods to begin with didn't make that obvious. Sad, considering this is where a "True Grit" or "The Fighter" nomination could be more relevant than where they are currently categorized. Odd that "Black Swan", with its freakish hallucination sequences, managed to avoid a nod here as well.
No love for "Daybreakers" either? The only good vampire film in this or any of the past five years?…It had good Art Direction too.
Costume Design
The only costumes that ever win with the modern Academy are those that pack the most flamboyant punch. That, and the fact that Collen Atwood, the most voter-beloved designer in recent memory, is behind the Red Queen's dress leaves little room for an upset over Alice in Wonderland. "The Tempest" could have had a shot if someone had seen it, and I Am Love is far too conventional to even be noticed. How odd that it's here, rather than the consistently under-nourished Makeup category, that they decided to wedge its "we know you exist" nomination.
Film Editing [Video]

While editing should come down to a battle between the hyper-kinetic "127 Hours" and moody Black Swan, it will more reflect the battle of the two most likely Best Pictures. The traditional scope of The King's Speech is emphasized just enough with editing flourishes to stand out, while the time jumps of "The Social Network" owe just as much to the screenplay as editing.
The fact that "The Fighter" was nominated here, when the perfect opportunity existed for another nomination to profile another film unlikely to win, is disappointing. Especially when "Scott Pilgrim vs. The World" unarguably succeeded at an editing challenge ten times larger than anything on display come Oscar night.
Cinematography
"True Grit" has a high chance here, considering the nominee Roger Deakins has been nominated eight other times (he was also a visual consultant on another Oscar nominated film this year, "How to Train Your Dragon", go figure). "Inception" had the wow factor and would take the award in any public voting, but Black Swan is more along the lines of past ceremonies. Either "Social Network" or "The King's Speech" could pull an upset here, but with an editing job so woven into its tempestuous plot, "Swan" made all the right moves.
Visual Effects [Video]

Rotating hallway fight sequence, slow motion falls, and a scene with a ton of gratuitous explosions. Inception is more likely to win here than if "The Hobbit" had finished on its original schedule and was nominated along with the latest "Star Wars"
Now that we got that cleared up, "Hereafter"? Really? Again may I point out that "Scott Pilgrim vs. the World" is as close to a moving comic book that should ever exist?
Original Song
Disney's dual nominations are going to collide here, negating the normally award-laden Randy Newman's chances. Considering how "Country Strong" was an auto-tuned mess, A.R. Rahman's If I Rise should just mathematically edge out the competition. Plus, its the same guy that did the tunes for "Slumdog Millionaire", and he won even after splitting the voice.
But if the Academy was going to endorse bad movies in this category, at least "Burlesque" had decent songs ("You Haven't Seen the Last of Me", "Show Me How You Burlesque", "Something's Got a Hold of Me") to buffer its retread narrative. And I thought the Academy loved Cher…
Original Score
All that Han Zimmer's "Inception" got going for it here was the trailer's "Mind Heist" theme, and that wasn't even done by him (or for the film originally). "127 Hours" was comparatively more of a one-song film, and How to Train Your Dragon isn't made by Pixar, so it won't be considered a legitimate choice despite its soaring celtic-infused greatness. Film buff instinct says that Desplat will rule over Atticus Ross here. But with the win at the Golden Globes, not to mention it being completely incompatible with its own movie makes it stand out the most, count on The Social Network winning here.
And forget Andrew Garfield. Forget Haliee Steinfeld and "Toy Story 3" being nominated in the wrong categories. Forgot Christopher Nolan. Biggest snub this year at the Oscars? No Best Soundtrack nomination for Daft Punk's sublime "Tron: Legacy".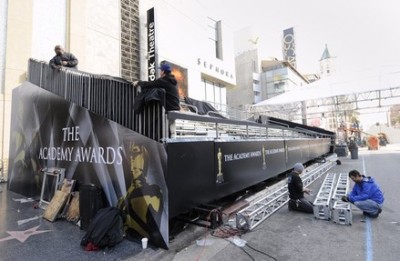 Documentary Feature
With no Michael Moore this year (and Josh Fox makes a *very* poor attempt to fill the void), the documentary category must actually be decided more on quality than ability-to-anger-people-politically. But hey, Inside Job checks both boxes, so its a near shoe-in. Waste Land's still the best of the bunch, but that'll be its only consolation.
An odd roster for this year, considering the better (and more politically venomous) documentaries released this year. Don't believe me? "8: The Mormon Proposition", "Waiting for Superman", "Catfish", "Client 9: The Rise and Fall of Eliot Spitzer", "12th and Delaware", "Last Train Home", and "Casino Jack and the United States of Money" were all released in 2010.
Foreign Film
Javier Bardem's nomination as an Actor put "Biutiful" at the top of most office polls, but In a Better World has had most ceremonies in its favor this year. Hopefully I'm not the only one that found Incendies to be excellent, but most of the time many voters look to other ceremonies in this category rather than…you know, watch the movies. The median age doesn't matter, Americans just don't traditional like to "read their movies".
Animated Feature
Do you even need to ask?
You do need to go and see The Illusionist, especially if you are one of those people that constantly complain about traditional animation in modern filmmaking.
Still mad there's only three slots? Where's the anime love? Well, there are certain box office and release date requirements for Oscar consideration, and most foreign animations  – without the financial support of Disney – fall way short. While the exact amount fluctuates, its pretty clear that the $3,000 (approx.) the otherwise stellar Summer Wars grossed in late December kept it out.
Adapted Screenplay
This year, oddly enough, the Best Adapted Screenplay will be decided by performances. I say this because, while its far from his best work, Aaron Sorkin is destined to win for The Social Network, mostly for the whip-lash inducing speed it's read by the lead actors. Too bad, because Winter's Bone is the greatest "screwed up people killing in the coldest parts of America" script since "Fargo".
By the way, want to guess why "Toy Story 3" is hear, despite being a stand-alone story? It's because its a sequel. No kidding, that's their official reason.
Original Screenplay
This is the official starting point of this year's "tradition-over-style" decision process. For this category at least, The King's Speech's expert prodding of 99.9% of cinematic tradition will overcome the more original nominees. Too bad, because a screenplay like Inception doesn't come around every day, mostly because most directors can't make plot holes cool like Christopher Nolan. That, and the Academy has something against that man.
Actor (In a Supporting Role)
Can someone explain to me why Mark Ruffalo is here? Granted, I'm familiar with nominations being handed out based on the strength of the other players in the film, but why isn't Julianne Moore nominated for that same reason? There was no shortage of good supporting gigs for actors this year instead of Ruffalo; as Andrew Garfield from "The Social Network" and Michael Douglas' "Wall Street: Money Never Sleeps" reprise can attest to. But that's what being the next Spiderman and you being in a bad movie, respectively, will get you. Do the voters  not know Ruffalo's going to be the next Incredible Hulk?
Christian Bale's got this one in the bag. Hopefully it will help him stop being rant-inducing insane with every character role and just get back to trying to surpass his work in "American Psycho." So far, no luck.
Actress (In a Supporting Role)
I'm one of the few people that didn't think Mila Kunis deserved a spot in the first place, so her absence isn't that shocking. The only rage I agree with this year is Hailee Steinfeld being relegated to a lesser role due to her age. Go sit at the kid's table dear, maybe when you're older. And while she is now the front-runner in this category, its hard to believe a single poster in bad taste could disable Melissa Leo from winning this one, especially since some may consider her owed for 2008's "Frozen River". While Amy Adams is nominated for the same movie, votes usually split only when each performance is on the same level.
Actor (In a Leading Role)
Jeff Bridges finally got his due last year, and his Dude-esque frolicking in Tron: Legacy didn't help things much. Jesse Eisenberg, while turning a deserving performance, is the youngest of the bunch, and that usually doesn't end well. James Franco's very nomination is kind of a slap against snubbed performers like Michael Douglas "Solitary Man", considering he's hosting the ceremony.
But Colin Firth? Did he play a real person? Check. Was that person alive during World War II? Check. British? Check. Had an obvious flaw that didn't make him ugly? Check. The less proactive partner with a highly proactive female spouse? Check. Develops a new friendship and learns something about himself by film's end? Aaaaand here's your statue. Did we mention we really did love you last year in "A Single Man"?
Actress (In a Leading Role)
With some performances, even the Academy can tell they are being played to. Thanks producer-star Nicole Kidman, let's play it a bit more coy next time, ok? Jennifer Lawrence gave a truly raw and empathetic effort, but suffers from both youth and obscurity. The strongest thing Annette Bening has going for her is a losing streak and a truly bad decision (Yes Virginia, the Academy did NOT give her the award for "American Beauty"). But in the end, we've all wanted Natalie Portman to be a star for years, and the twisted slab of crazy she turned into for "Black Swan" is totally worth it.
Director
Yes, yes, we are all pissed that Nolan got snubbed again. But hey, it's going to be fun to see how the Academy compensates this time, right? Last year they expanded the Best Picture category to 10, will they reanimate Johnny Carson's body to host next year?
While the Academy loves the Coen brothers, its probably too soon after "No Country for Old Men" to consider them in the running. Tom Hooper has a blank slate for a long-term schedule, and for some reason that actually effects voting. Darren Aronofsky gave the best work out of an already breathtaking career, but it will lose for the same reason that it will lose Best Picture, the Academy doesn't reward horror films. And again we find ourselves on the "Social Network", "King's Speech" divide. But with more visual and script flair, David Fincher should barely eek out a victory.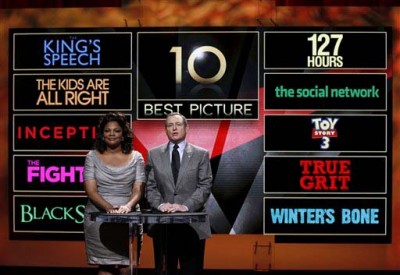 Best Picture
Like last year, you can eliminate half of the nominees right off the bat. So goodbye "Toy Story 3", "127 Hours", "Winter's Bone", "Black Swan", and "Inception". "The Fighter" will win its awards in the acting categories, "The Kids Are All Right" will be this year's award dud, "True Grit" will be a close second.
Now, on one hand, we have a film stemming from over one hundred years of convention, a meticulously crafted piece of bait firmly gutted on the hook, "The King's Speech". With major wins at the Producer's Guild, Director's Guild, BAFTA, and Screen Writer's Guild, those formerly on the opposing side of the argument have come to believe the Academy will uphold tradition and play the safe bet. But, in perhaps a bout of ridiculous enthusiasm, I disagree.
I see its wins at the Writer's Guild, Golden Globes, Satellite and London Film Critics, and I see the Academy's new applicants being accepted into the voting process being twenty years younger than usual. With David Fincher more likely to win for Director, and Sorkin absolutely set to win for Screenplay, the new favorite should give way to the older front-runner, with The Social Network grabbing top honors.
…Or "Toy Story 3" could sweep. This is often a crap shoot, after all.
Congratulations on passing the endurance leg of your reading test. Which films do you want to see win? Which of your favorites got snubbed? Let's see some of your own predictions below, E-Gs!