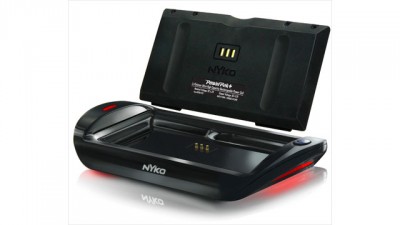 [Initial reporting done by Eli English]
Just scraping the bottom limit for most dedicated portable gamers, the Nintendo 3DS will be hitting store shelves soon, but will only offer a battery life between 3-8 hours depending on the activity/amount of 3D. Dedicated peripheral manufacturer Nyko has a cure to your problems, however, their Power Pak+, a small add-on device that increases your gameplay from 3-8 hours to 16 hours for around $20.
The Power Pak+ is expected to launch on the same day as the device itself in the States. Nyko's 3DS base charger, a small wall plugin to charge up your 3DS, is expected to launch a week after Nintendo's new portable, with no pricing details yet announced. The two peripherals can either be bought separately or in a $30 bundle.
So E-Gs, will you be picking up the 3DS? Considering picking up the Power Pak+? Post your views below!