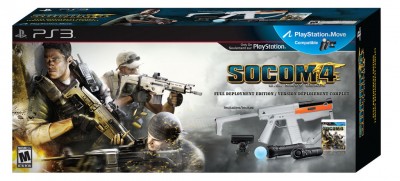 [Initial reporting done by Eli English]
A lot is riding on SOCOM 4 for Sony. Not only one of the hardest of the hardcore games to feature Move support, its also a major return to a franchise that has had some severe missteps. Perhaps its good that Sony has recently announced the SOCOM 4 "Full Deployment Edition", a $150 bundle containing all of the hardware needed to support the most prolific Move game for the shooter audience. The bundle includes a copy of SOCOM 4, a Playstation Move Navigation Controller, a Playstation Move Motion Controller, a Playstation Move Sharpshooter Controller attachment and a Playstation Eye camera. The Full Deployment Edition will be released the same day as SOCOM 4 in the States, April 19.

Will this "Deployment" have you enlist with Playstation Move? Are you interested in picking up SOCOM 4 at all? Tell us below!