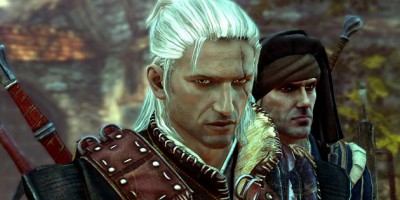 In an open letter to fans last week, CD Projekt RED announced that it would be suspending its legal battles against alleged pirates of their RPG, The Witcher 2: Assassins of Kings. The response the prospective litigation got from fans -particularly after unsubstantiated reports began to come in about legal action being taken against individuals not completely proven to have pirated the software – was cited as CD Projekt's main reason for backing off. The studio went on to say that it still considers piracy to be one of their chief concerns as a game developer, and asks for support from the fans to help them prevent further illegal downloads. The full letter to the gaming public from studio co-founder Marcin Iwinski can be found after the jump.
An Open Letter to the Gaming Community from CD Projekt REDIn early December, an article was published about a law firm acting on behalf of CD Projekt RED, contacting individuals who had downloaded The Witcher 2 illegally and seeking financial compensation for copyright infringement. The news about our decision to combat piracy directly, instead of with DRM, spread quickly and with it came a number of concerns from the community. Repeatedly, gamers just like you have said that our methods might wrongly accuse people who have never violated our copyright and expressed serious concern about our actions.

Being part of a community is a give-and-take process. We only succeed because you have faith in us, and we have worked hard over the years to build up that trust. We were sorry to see that many gamers felt that our actions didn't respect the faith that they have put into CD Projekt RED. Our fans always have been and remain our greatest concern, and we pride ourselves on the fact that you all know that we listen to you and take your opinions to heart. While we are confident that no one who legally owns one of our games has been required to compensate us for copyright infringement, we value our fans, our supporters, and our community too highly to take the chance that we might ever falsely accuse even one individual.

So we've decided that we will immediately cease identifying and contacting pirates.

Let's make this clear: we don't support piracy. It hurts us, the developers. It hurts the industry as a whole. Though we are staunch opponents of DRM because we don't believe it has any effect on reducing piracy, we still do not condone copying games illegally. We're doing our part to keep our relationship with you, our gaming audience, a positive one. We've heard your concerns, listened to your voices, and we're responding to them. But you need to help us and do your part: don't be indifferent to piracy. If you see a friend playing an illegal copy of a game–any game–tell your friend that they're undermining the possible success of the developer who created the very game that they are enjoying. Unless you support the developers who make the games you play, unless you pay for those games, we won't be able to produce new excellent titles for you.

Keep on playing,

Marcin Iwinski
co-founder
CD Projekt RED
(via 1UP)
Do you think CD Projekt should have halted their efforts against software pirates? Do you think these reports of false piracy charges could be accurate, and if so, was that more likely to have been the motivation for CD Projekt's decision? Comment with your thoughts down below!