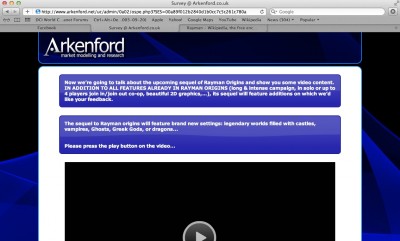 A survey given by marketing firm Arkenford has apparently revealed the existence of a sequel to Ubisoft's Rayman: Origins. An unspecified Kotaku reader sent in screen captures from said survey, including screenshots and a bit of promotional language about the prospective title. According to the firm, "The sequel to Rayman Origins will feature brand new settings: legendary worlds filled with castles, vampires, ghosts, Greek Gods, or dragons."
Released the same month as The Elder Scrolls V: Skyrim and Call of Duty: Modern Warfare 3 late last year, Rayman Origins performed within the industry's comparatively low expectations. The game received glowing reviews upon its release (including our Elder's Choice Award) for its art style and drop in/out co-operative multiplayer, both features the sequel reportedly retains.
Ubisoft has yet to confirm the production.
(via Gematsu)