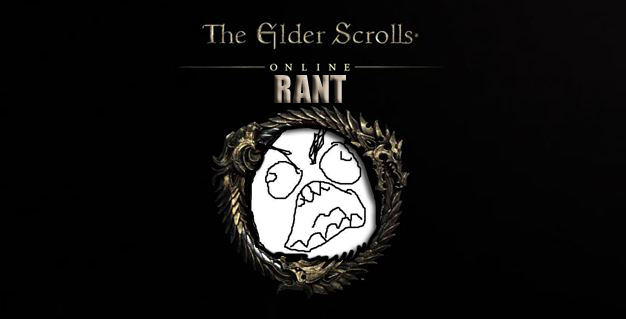 I'm just going to come out and say it.  Who else facepalmed when they found out The Elder Scrolls Online was going to abandon the gameplay roots and true exploration that made the series great…to give us yet another WoW clone?  Last I looked in the mirror, I could still see the handprint outline on my mug.
I couldn't grasp it.  This game was THE opportunity to take over the sandbox MMO market that had died off after the debacle that was Star Wars Galaxies NGE in 2005.  Completely theirs for the taking. On top of that, they could have merged in some theme park elements in regards to raiding endgame instances and so forth.  A hybridization of the standard economy system from WoW and the player driven one from SWG could have been implemented to create something fresh and fun.
Saying that news of what The Elder Scrolls Online really is upset me would be an understatement.  I almost Fus Roh Dah'ed down the wall next to my computer.  All I could do was imagine playing Morrowind, Oblivion, or Skyrim with hundreds of others.  Everyone spread out across the vast landscape of Tamriel on adventures filled with quests and exploration.  Upon reading tons of different gaming forums, the consensus was the same.  Tons of excitement followed by a dark cloud of angst and frustration as the now infamous Game Informer leaks spread across the internet like a wildfire.
It can't be stated any other way.  The opportunity was there for the taking and now we're presented with a World of Warcraft meets Dark Age of Camelot mash-up.  Honestly, that doesn't sound half bad considering how many people have wanted a successor to DAOC.  The thing is though, this is THE ELDER SCROLLS.  It's not hotbars.  Not third person oriented…and definitely not a polished landscape filled with a vibrant color palette and seemingly minimal foliage.
It almost feels like I'm going through the Kübler-Ross model.  For those who don't know what that is.  It's denial, followed by anger, bargaining, depression, and finally acceptance.  I'm past acceptance at this point.  Nothing anyone does can change this game and turn it into what the vast majority of TES fans want.  How am I beyond acceptance though?  Simple really.  I understand WHY the game is what it is.  Hopefully this will help others calm down.
I've had a night to cool off and think things over.  It's amazing what you can do when you just stop and think things through while pushing the emotion out of it.  For starters, the development of The Elder Scrolls Online started in 2007.  To put this in perspective, The Burning Crusade launched for WoW in January of that year.  Basically, the highpoint of the game's popularity went from that point and into Lich King.  WoW had also only been out for a little over 2 years at the point (it launched in November of 2004).
At this moment in time, World of Warcraft clones had yet to arrive and fail in droves.  Likewise, people had yet to tire of them.  Age of Conan and Warhammer Online, the first big games to take a legitimate shot at WoW and fail, didn't even release until May and September of 2008 respectively.  Don't forget that The Lord of the Rings Online had released in 2007 and actually performed pretty well.  So where does this bring us? Put yourself in the shoes over at ZeniMax.  It's 2007 and the theme park MMO genre has exploded.  Blizzard is making hundreds of millions of dollars.  Do you really think you're going to invest your own millions in trying something as bold as making an MMO version of your single player experience? In 2005 you saw Star Wars Galaxies (a premier sandbox MMO mind you) implement a patch called New Game Enhancements in order to copy WoW, killing itself in the process because LucasArts/SOE wanted so badly to reach the market WoW had tapped.  Do you actually believe sandbox MMO was the answer floating in everyone's mind? Heck no!  You're going to go with what's hot, making the big bucks and in the process you'll put your own little twist on it.  The atmosphere over that was probably one of…people love WoW and people love TES…imagine the two together!
That's why The Elder Scrolls Online has so many similarities to WoW.  They've been seemingly damned by the development time that MMO's require.  People are now looking for different MMO experiences, and if we've learned anything in recent history, it's that people who want to play a WoW like game are going to play…WoW.  It's exactly what all my friends told me when they quit SW:ToR.  "If we wanted to play WoW, we'd play WoW."
ZeniMax can make justifications for how real time combat can't work (Tera completely discredits this excuse) and how player housing can't be done the way players want (Star Wars Galaxies did it).  Perhaps their bet is that most people won't catch on and question their statements.  They can't really say anything else though.  Technically they're right since the game they've developed doesn't do these things.  Do you honestly expect them to come out and say, "uhh, we're too far in development to make the changes people want.  We could have done all these things but chose a different rout when we started the process…so just get over it." They have to make the best of their situation, which means a lot of fluff pieces and spinning.  At least they're actively and openly admitting to World of Warcraft being a major influence,  unlike what we've seen from some studios in the past.  It's almost as if it's being embraced.
Oh, and as lots of people are blasting this game for running on the Hero Engine since SW:ToR uses it, don't.  ZeniMax licensed the engine in 2007.  There's no magical portal to the future they could use to see what happened to SW:ToR or the issues with the engine that upset some people who played the game.  They deserve no hatred for choosing to use it.  Besides, do you really want them making their own engine given the history their pals over at Bethesda Game Studios have had in the past? *wink*
Little joke at the end aside, there you have it. A rant of sorts filled in with logic to counter the feelings of betrayal instilled by a game not being what so many wanted.  I hope it's a good one.  Baring some serious flaws I'm probably going to give it a try too.  I definitely feel sympathy for those at ZeniMax Online Studios.  It feels like they're going to be on the defensive all the way through beta and launch.  I think everyone just needs to relax and take this one day to day, month to month, until we learn more about it.  Even if it is a lot like WoW, who's to say it doesn't turn out to be an exceedingly fun game?  Just like how people quickly hype games up to be the next WoW killer, don't assume the opposite by claiming this one dead on arrival.  Perhaps one day we'll get the dream MMO that weaves in the experience of multiplayer with the sandbox atmosphere and real time combat of an Elder Scrolls game.  It's just not coming any time soon.