Over the past few weeks we've been testing out a few new products from NZXT: The NZXT Hue and the NZXT Aperture M.
Coming from opposite ends of the form and function spectrum, the Aperture M is a multi-card reader expansion for your PC's front bay, and the Hue is an LED controller sporting Red, Green, and Blue controls along with a few other little features.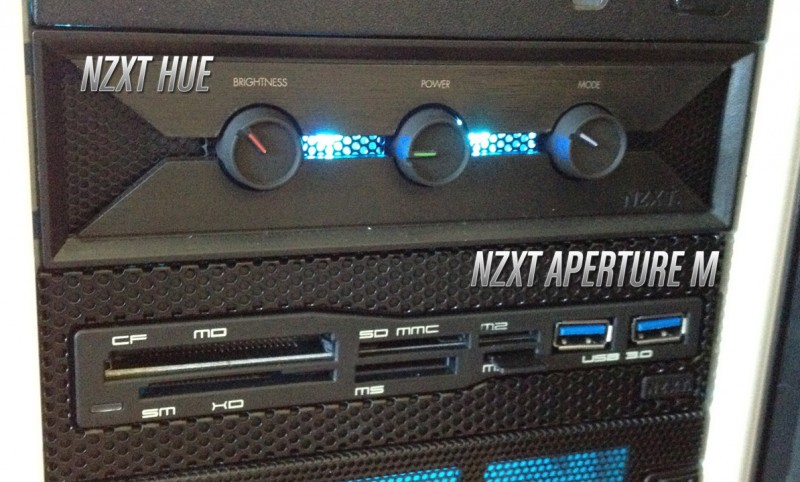 From start to finish, it took us about 30 minutes total to install both simultaneously. They are both sized to exact same specifications as a standard 5.25 optical disk drive (ODD), so in terms of the install, they are nothing scary at all. It's almost as easy as popping out an old DVD burner. However, weight-wise, they aren't as heavy or physically as sturdy as a DVD drive, so when we placed them into the front bay, we felt the need to lock both down with a few extra screws just to add some stability despite the fact we use a screwless bay system. Both the Aperture M and the Hue have a nice wire mesh design that go well with most mesh front panels.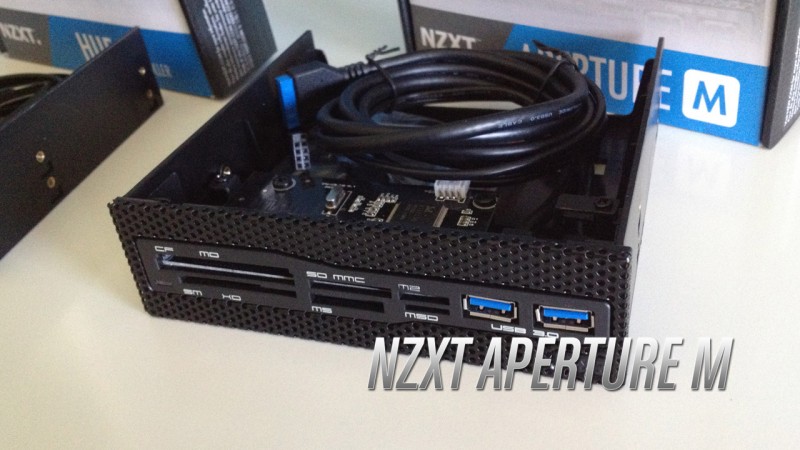 The Aperture M card reader supports CF, MD, XD, SD, SDHC, SDXC, MMC, MS, M2 and Micro SD type cards. So if you have a cell phone, camera or camcorder, chances are the media it carries is supported by this expansion. In addition to the card readers, the Aperture also has two USB 3.0 jacks which we were happy to see, making this a VERY versatile addition to the front of your PC.
Installation-wise, the Aperture M requires two separate connectors on your motherboard. A free USB 3.0 connection on your motherboard is required for the USB 3.0 jacks (obviously), and also a standard USB slot on your motherboard is needed for the remaining card types. So before you make the plunge and decide on a purchase, check your motherboard ahead of time and make sure you have the extra slots. If you are using a PC case that hides your cables behind the motherboard, there is PLENTY of wire here to keep your case clutter-free. We installed this into a full sized tower and had no problems.
Functionally, not much can be said about the Aperture M. It worked flawlessly right out of the box for us. No drivers were needed. We can certainly recommend this product for designers, video creators, and any other professional or hobbyist who never knows what type of media the next project will arrive one. It's priced fairly for about $35.
An additional note before we move on, having the USB 3.0s on the front panel proved to be pretty handy. The back of this particular PC is a jungle of cables used for capturing video and displaying on multiple monitors so it's nice to have a clutter free area to pop in our Xbox 360 controllers and external hard drives.
On to the shiny lights.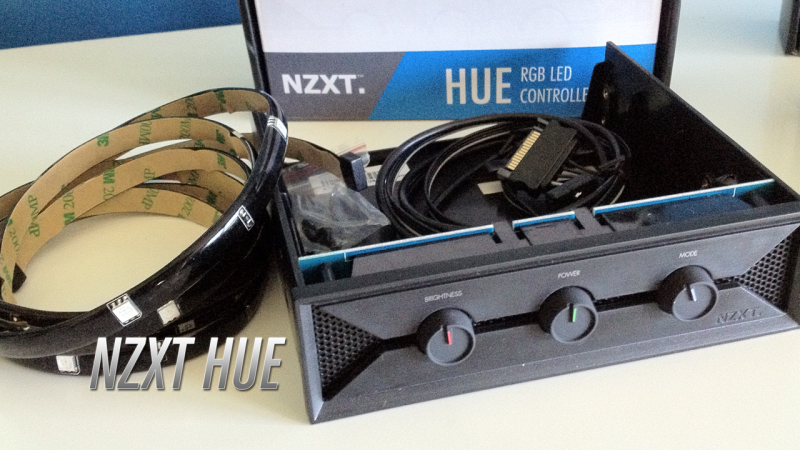 The NZXT Hue REALLY had us interested. For PC builders who love to show off their case, the NZXT Hue is probably the only LED system you'll ever need. Using the Red, Green, and Blue dials, you can control the exact color mix and brightness of the color that appears inside your case. The LED string is 2 meters long with 24 RGB LEDs spread evenly throughout with a self adhesive back. The LEDs have 5 brightness levels that range from rather dim to "don't stare at it kid, you'll go blind."
The Hue also has 5 different operational modes: standard, fading, flashing, color fading, and color flashing all of which have several different levels of operation that can be dialed up or down based on your preference. With the Hue, you can easily match the color to your case, or your mood.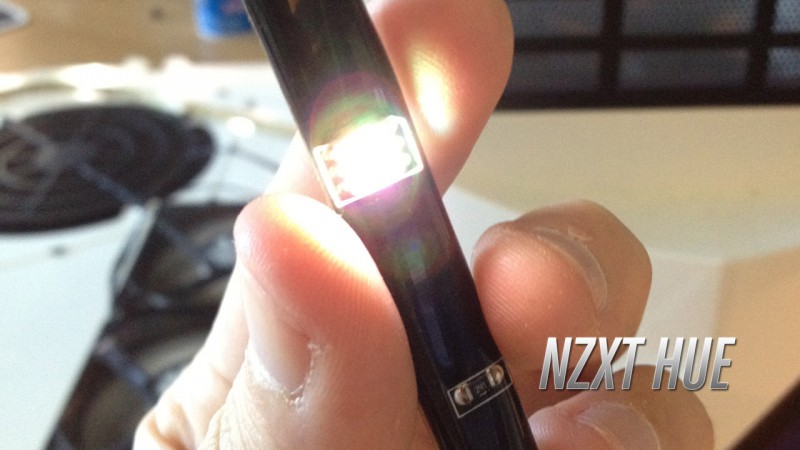 Don't let the wonky looking plug head confuse you. Installation-wise, the Hue simply connects to an open SATA power supply. In terms of controls, they're easy. After a few moments of fiddling, you'll have it just the way you want it.
For case enthusiasts out there, the Hue comes highly recommended from us. In fact, we can say this idea and design is downright innovative. We're sure these will be popping up in a lot of elite cases in future LAN parties and game conventions.
Whether you simply NEED the Aperture for work or you simply WANT the Hue for your own enjoyment, we can say they're both worth buying.