What do you get when you combine 80s and present day action stars; throw in liberal amounts of explosions, gun play, and other creative ways to kill bad guys; and sprinkle some choice one-liners that often reference the stars' old movies on top? Why, you get The Expendables 2, of course. Directed by Simon West, and starring… well, starring these guys: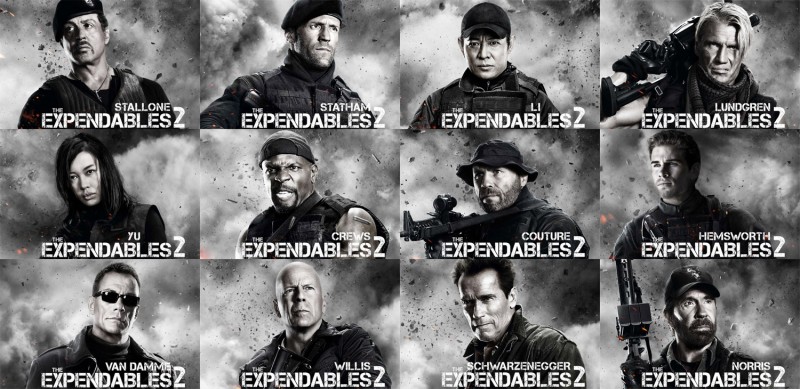 The Expendables 2 is an adrenaline fueled action frenzy, and personally, I wouldn't have it any other way.
The Expendables 2 knows exactly what it is, and it doesn't try to be anything different. This movie is all out action, and it doesn't waste any time showing you how serious it is about its job of being an action film. You will see guns, knives, tanks, armored trucks, rocket launchers, martial arts, and so, so much more. And the best part? These aging heroes can still keep up with, and even outshine some of the modern day action movie stars.
The story always seems to come second in balls to the wall action movies. The Expendables 2 is no different, and the story is gently, but firmly shoved aside so more explosions can make their way through. It is a simple revenge plot with no fancy bells or whistles attached, but with this kind of movie any twist or unexpected happening would have looked forced and unnatural. The only downside, and it's a pretty significant one, is that Jet Li is only in the film for the first 10 minutes or so, and then he is replaced by Nan Yu. Don't get me wrong, Yu does a great job despite not being very recognizable, but not having Jet Li in your ensemble action movie is like eating your cereal without milk.
I went into this movie expecting a fun action film similar to the first Expendables. It seems like Stallone and company took everything from the first movie and made vast improvements to it, and my expectations were greatly exceeded. The most surprising improvement I noticed was the character interaction. Whether it was idle conversation, playful death threats, or small zingers that reference The Terminator or Rambo, the interactions between the mercenary team are always very animated and often funny as well. To my surprise, the old movie references never get old; they just get funnier as the movie progresses.
The action has also been polished up and improved since the first film. Don't get me wrong, The Expendables has some quality action scenes, but The Expendables 2 takes it to a whole different level. I guess that's what happens when you add names like Willis, Schwarzenegger, and Norris to your action scenes. Sure, there is a massive amount of gunplay, but there are other awesome scenes with vehicle combat, throwing knives, and other great weapons. I don't want to explain any of them in detail and risk ruining the surprise, but overall it seems like a lot more creativity was involved with the action scenes this time around. The camera can get a little crazy at times, and there are a couple instances where it can get difficult to tell exactly what is going on, but that is only a minor issue to an overall great set of sequences.
If you are an action movie fan, then you're going to want to see The Expendables 2 in theaters. While it's not going to win any major awards, it is a great time, and honestly, you can't go wrong with that cast. All it needs is more Jet Li. If you do go see it, I recommend going at a time when the theater is mostly full. Most of the people seeing this movie know what it is, so odds are the crowd and their reactions are just going to enhance the experience.
– – – – – – –
Name: The Expendables 2
Studio: Nu Image, Millennium Films
Distributor: Lionsgate
Release date: August 17, 2012
EG Score: 4 out of 5 / "Worth Buying/Renting"