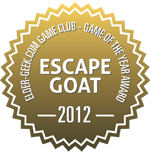 In the first episode of 2013 we took some time to regroup and look back at the games we covered in 2012. We talk about our favorites and some that were our least favorite. A BIG congratulations to MagicalTimeBean for being the Game Club's 2012 Game of the Year. If you haven't played it yet… shame on you!
We'll be back next Thursday January 24th with Street Fighter X Megaman a Free-to-Play PC game.
Thank you to everyone that listened to the show, submitted community feedback or left us ratings on iTunes! Please don't forget we're on iTunes and Zune and we need feedback and ratings! We hope you're enjoying the Game Club as much as we are! Thank you for your support!
Click that big iTunes button below and subscribe! You can also send your feedback via email to eldergeekgameclub@gmail.com or twitter @ElderGeekDotCom and @EGGameClub.
You can subscribe to the RSS Feed right here.
Listen to the Elder-Geek Game Club on iTunes or Stitcher Radio
LIST OF GAMES COVERED IN THIS EPISODE:
Game List
Pitiri 1977
Abobo's Big Adventure
Bastion
Unstoppable Gorg
Alter Ego
Wizorb
Offspring Fling
Legend of Grimrock
Another World
Noitu Love 2: Devolution
Lara Croft & the Gaurdian of Light
Quantum Conundrum
Celestial Mechanica
Slender
Insanely Twisted Shadow Planet
Dear Esther
Double Dragon Neon
Colour Bind
Super Castlevania 4
Escape Goat
Pid
Nitronic Rush
The Walking Dead
-Free Games-
Abobo's Big Adventure
Alter Ego
Slender
Nitronic Rush
Celestial Mechanica now free
http://www.thefreebundle.com/ -includes abobo, nitronic, Celestial
-Indie Games-
Pitiri 1977
Bastion
Unstoppable Gorg
Wizorb
Offspring Fling
Legend of Grimrock
Noitu Love 2: Devolution
Insanely Twisted Shadow Planet
Dear Esther
Colour Bind
Escape Goat
Pid
-Studio Releases-
Lara Croft & the Gaurdian of Light
Quantum Conundrum
Double Dragon Neon
The Walking Dead
-Retro-
Another World
Super Castlevania 4