For those gamers out there who are constantly hoping to see Sonic come back and fulfill their non-Mario platforming dreams, you need to give it up. It's never going to happen. More importantly, you need to be looking at Rayman for your high octane wall and ceiling running addiction. Heck, platformer fans everywhere should be giving Rayman some very serious attention right now. Rayman Legends is a wonderful 2D platformer with a beefy challenge, an amazing soundtrack and beautiful visuals. It does have its quirks but none big enough to dull the shine of this modern platforming gem.
The story of Legends is that Rayman and Globox have been sleeping for 100 years and while they were napping, the Bubble Dreamer's nightmares wreaked havoc on the world. Rayman (or whoever you choose to play as), must enter dozens of paintings to free the Teensies and Lums by running, jumping, dodging, and smacking their way to victory.
That's basically it. If you've played any platformer within the past 30 years, you know exactly what you're getting into with Rayman Legends. Stomp or punch the baddies. Collect the shiny objects. Rescue the good people trapped in cages.
But Rayman does so much right. Design-wise, it's as beautiful as Trine 2. At almost any given moment, you could capture a screenshot and use it as a desktop background. Gorgeous doesn't quite cut it. The animation is more fluid than most children's television cartoons and it has a near Disney-level of perfection.
And the whole game is set to a pitch perfect soundtrack. Whether it is an homage to classic 60's spy films, an orchestral Fantasia-esque track, or a mariachi rendition of "Eye of the Tiger" (complete with kazoos), it all fits wonderfully and syncs perfectly with the action on screen especially on the final missions for each level.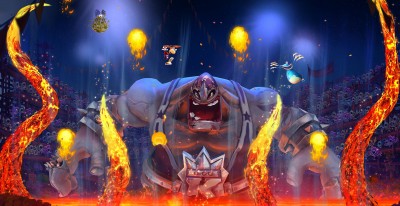 But such a thick layer of gloss wouldn't mean anything if the gameplay, controls and level design were a miss. The level design is absolutely outstanding. While it may have taken a few levels to get into a good groove, Rayman Legends goes from a walk in the park to a well-designed speedy test of your reflexes and memory. Some of the more impressive level designs involve some hectic wall running, dodging spinning blades and other baddies, just to keep yourself from being buried alive in quicksand.
Control-wise is where Rayman shows one of its weaknesses. We tested the game on PS3, where the run button was poorly mapped to the squishy R2 button. By the end of some particularly tough levels, not only did we have sweaty hands, but that index finger got an unpredicted workout as w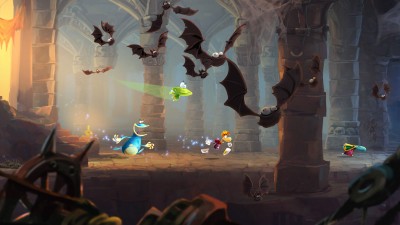 precision you'd expect from a modern platformer.
At the end of each level, you tally up your lums and the number of Teensies you've freed which will unlock new levels and new playable characters. You also get a chance to unlock some Rayman Origins levels adding even MORE content to the game. By the time you see the credits rolling, you will have only unlocked a little over half of the game's content… which is outstanding.
Rayman also makes for a great couch coop experience for all ages and experience levels. Players who die in the field can be resurrected by a friend simply by smacking their bubble. On the downside, Rayman Legends, much like Rayman Origins, is local coop only. It's great to have some personal bonding time with friends and family in the same room, but an online coop would have gone a lot further in our book for gamers whose friends and families don't live in the same house.
Perfecting each level and hunting down every last Teeny will keep platforming junkies happy for a very long time. Piled on top of that is the invasion system, where you can challenge your friends to special levels and there are also weekly challenge unlocks where you can compete with people all over the world. Or you can go head to head in a local game of Rayman soccer called "Kung Foot". For a platformer, Rayman has a remarkable amount of longevity.
One of the best parts about Rayman Legends: it exists on almost every current generation console, including PC and Vita. Great soundtrack, fun coop, frenetic level design, beautiful art direction, there's little reason to NOT give Rayman Legends a try, that is, unless you happen to not be a platformer fan. If you're a mom or dad out there looking for something safe for your kids to play, Rayman is a good bet. But it's not just for kids. This is a full blown hardcore platformer as well. On console, we wish we could remap the controls a bit, and we really want some online coop. Without a doubt, this is easily one of the best platformers of the year and we would be shocked if it didn't earn some game of the year nominations.
– — – — – — –
Title: Rayman Legends
Reviewed on: PlayStation 3
Available on: PC, Xbox 360, PlayStation 3, Wii U, PlayStation Vita
Developer: Ubisoft Montpelier
Publisher: Ubisoft
Release Date: September 3, 2013
Price: $59.99
Rating: 5 out of 5 "Worth Buying"