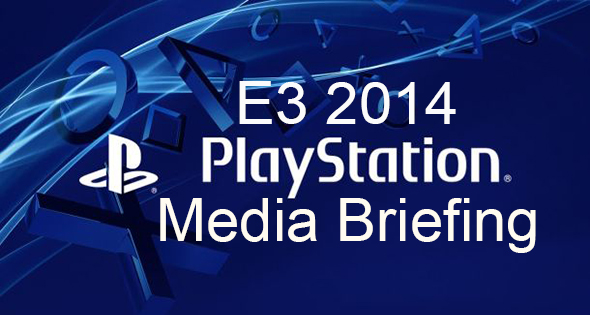 Sony's E3 2014 press conference began with a new trailer for Destiny, talking about a "darkness", a threat to the universe that only the "guardians" can stop. The trailer showed gameplay featuring a variety of enemies, weapons, vehicles and planets while also revealing some of the game's story.
Andrew House, president and group CEO of SCE, came out first to reveal that the Destiny beta will come to PlayStation 4 first, starting July 17th. However, PlayStation 4 gamers will also be able to play through an exclusive first-look alpha this coming Thursday. House then announced an exclusive PS4 bundle featuring a 500gb white PS4 console, Destiny, white Dualshock 4 controller as well as a 30-day trial with PlayStation Plus. It will be available September 9th.
A new gameplay video of The Order 1886 was shown next, and it featured the main protagonist coming across a zombie-like creature. However it then transormed into more of a werewolf and we then saw the hero retreating while firing shots that didn't seem to affect the beast. After a small battle the creature finally gets close enough to swing its claw, when the trailer cuts to black.
A short trailer then introduced Entwined, a title developed by recent graduated from Carnegie Mellon University.It is about two souls who are in love, but can never be together. The player has to bring the two characters together over 9 unique lifetimes and when you do, they transform into a dragon. It was then revealed that the game is available now on PlayStation 4 for $9.99.
Up next was the announcement of a standalone piece of downloadable content for Infamous: Second Son, called First Light will be coming in August. The brief trailer revealed that you'll play as Fetch, a character from Infamous: Second Son. In the trailer Fetch was tormented by voices, and then it showed her running around the city using her powers.
An on-stage demo from Media Molecule announced Little Big Planet 3 for PlayStation 4. The demo introduced new characters who will join Sackboy in the game. Oddsock, a dog-like creature who can wall run and is much faster than Sackboy; Toggle, a character who is the strongest and the biggest, but can also become the smallest at the press of a button; and Swoop, a bird character who can fly around the level. Each character must use their unique abilities to help their friends through the levels. Little Big Planet 3 will release for PS4 in November.
Shuhei Yoshida, Sony Worldwide Boss, revealed that Bloodborne, a title from Hidetaka Miyazaki who created Demon's Souls and Dark Souls, will be coming exclusively for PlayStation 4 in 2015. A brief trailer was then shown for the game.
Ubisoft creative director Alexander Hutchinson came out next, to showcase a new gameplay demo from Far Cry 4. The trailer showed the protagonist descending a mountain, showing off the game's visuals and wildlife interacting with each other. The player then came across an enemy stronghold where stealth was used in the beginning by using a crossbow. He then laid a C4 charge on an explosive barrel before kicking it off a ledge onto enemies below. A new takedown was shown when the player jumped from their car into a truck, killing the driver and taking control of the vehicle. One handed weapons can also be fired while driving, and the wingsuit and parachute also made a return. New wilflife was also shown including elephants that were stampeding through an outpost. A second player then joined the game and took the role of Hurk, a side character in the game. It showed the second player picking up the first player in his gyrocopter and flying them into an enemy outpost, revealing a two-player cooperative mode for the game. In a surprise announcement, players who buy the game on PS3 or PS4 will be available to invite a player to join them in-game even if they don't own it.
Adam Boyes then revealed a new trailer, announcing Dead Island 2. The game is set "several months" after the original and takes place in California. It is powered by Unreal Engine 4 and will launch for PS4, Xbox One and PC in spring 2015. Boyes also announced that Blizzard is working alongside Sony to bring the Clickers from The Last of Us into an exclusive themed dungeon in Diablo 3: Ultimate Evil Edition which releases for PS4 on August 19th. Boyes then revealed that the PS4 version of Dead Island 2 will have an exclusive 30 day beta. Along with a new trailer he also confirmed that the Battlefield Hardline beta is available exclusively on consoles for PS4.
Boyes also announced a partnership with Disney which will bring The Incredible Hulk and five unnamed Avengers exclusively to PlayStation platforms in a Disney Infinity bundle. He confirmed that for Destiny, PlayStation players will get exclusive weapons, armor sets, ships and an exclusive multiplayer map. A trailer then announced Magicka 2 from Paradox Interactive.
Up next was the announcement that Double Fine is working on a remastered version of Grim Fandango. It will come exclusively to PlayStation 4 and PlayStation Vita.
Sony also announced a partnership with Devolver Digital that will see several new games have their console debut on PlayStation 4 including BroForce, Titan Souls, Not A Hero, Hotline Miami 2: Wrong Number and The Talos Principle.
The next title from Suda 51 was revealed next. It is called Let It Die, and it's a PlayStation 4 exclusive. The trailer showed glimpses of fights with weapon stats and damage indicators suggesting it may have a multiplayer aspect. It will arrive in 2015.
The next game unveiled is the first title from Giant Squid, Abzû. Giant Squid was formed last year by Journey art director Matt Nava. Journey composer Austin Wintory and thatgamecompany's lead designer Nicholas Clark are also working on Abzû. The trailer shows an underwater explorer journeying through the sea. It will make its console debut on PS4.
Another game that will make it's console debut on PS4, No Man's Sky, had a new trailer revealed next. It featured space exploration, dogfighting as well as many creatures including dinosaurs. The trailer also showed off the ability to fly from planets into space and from space directly onto another planet without loading screens. Hello Games founder Sean Murray cam out to explain the procedural universe of the game, saying that every player will have a different experience within the game, even starting each player on a different planet.
Andrew House returned to the stage next to reveal that its Project Morpheus virtual reality headset is playable at the Sony booth, with demos for EVE Valkyrie, Street Luge and Jurassic Encounter. House then introduced Shawn Layden, president and CEO of SCE America. Layden spoke about PSN, the social experience and announced that YouTube will be coming to PS4 later this year. Gamers will be able to upload videos to YouTube directly by pressing the share button. He also announced that this summer, free DLC will arrive for PS4's Playroom adding more content that gamers can use to customize their own broadcasting set. Layden confirmed that there will be more than 25 free-to-play titles hitting PlayStation over the next twelve months. They include, Planetside 2, Kingdom Under Fire 2 and Guns Up.
Layden then announced that starting July 31st, PlayStation Now will begin its open beta on PlayStation 4. Then "shortly after" the open beta will be available on PS Vita and PS3 as well. Sony will also at a later date bring PlayStation Now to select Sony TVs, although you will still need a dualshock 4 controller to play the games. Sony wants to hear from gamers about their experience with the service during the open beta, and will continue to improve it based on feedback.
The PS Vita was featured next with Layden confirming Sony's committment to the platform. With PS Now the Vita will be the only mobile device with access to Sony's catalogue of games. There are over 100 games currently in-development for the platform including, Child of Light and Tales From The Borderlands. Minecraft is also coming to the platform as the "full console experience" with co-op play included.
Layden then revealed that its PlayStation TV streaming service will release this fall. The PlayStation TV pairs with your TV, which allows you to play PlayStation 4 games on a separate TV in your home and also stream online video through PlayStation Now. It will be able to play most Vita titles and older PlayStation games as well, making over 1,000 titles available on PlayStation TV at launch. It will be available for $99. There will also be a $139 bundle that includes a controller, and HDMI cable, memory card and a voucher for a digital copy of The Lego Movie: The Video Game.
The worldwide premier of Mortal Combat X gameplay was up next and it showed fights between Scorpion and Sub Zero as well as new characters. Several brutal fatalaties were also shown in the trailer.
Andrew House came back to the stage to announce Sony's first original TV series called "Powers" based on the comic of the same name. Co-creator and executive producer for the show, Brian Bendis, came on stage to reveal that Powers has been green-lit to series by Sony. The story revolves around two homicide detectives that investigate crimes involving people with superhuman abilities. However, one of the detectives was once a superhero, but lost his powers. The show's first episode will be free for US PlayStation owners in December. The entire series will be available to PS Plus members.
A new trailer for Ratchet and Clank: The Movie was unveiled next. Andrew House said that Ratchet and Clank developer Insomniac Games is heavily involved in the film, and is also working on a remastered version of the original Ratchet and Clank for PS4. Both the movie and game will be available in the first half of 2015.
The Last of Us remastered version was then shown in a new trailer, confirming the release date: July 29th.
Andrew House then introduced a new extended trailer for Metal Gear Solid 5: The Phantom Pain. It begins with Snake's Diamond Dogs dead bodies sprawled across a wasteland. The ashes of the dead are presented at a memorial but instead of throwing the ashes out to sea, Snake takes a handful of ash and rubs it onto his face. We then see several scenes from the game with the whole trailer showing the title's darker themes.
House then revealed that Grand Theft Auto V will be coming to PS4 this fall. Rockstar has confirmed it will come to Xbox One and PC as well. Xbox 360 and PS3 players will be able to transfer their online progress to their next gen version too.
Batman: Arkham Knight was up next, with a gameplay trailer showing the graphics, the free-roam gameplay throughout a larger Gotham City with driving and combat in the batmobile as well. The demo also shows some hand-to-hand combat and Batman's faster movements. He sneaks into a building where the Penguin is, and then the trailer begins to glitch and then the Scarecrow appears to deliver a message to Batman. The PlayStation 4 version of the game will get exclusive Scarecrow nightmare missions.
Lastly, a teaser trailer was shown for Uncharted 4: A Thief's End. The trailer showed an older Nathan Drake waking up on an island and walking into a jungle for one more adventure. A conversation between Drake and Sully is played over the footage, revealing that Drake has been out of the game for a long time, but wants to get back in, just one last time.