Yesterday at a packed Nokia Theater, Nintendo held the Super Smash Bros. Invitational for fans of the franchise and Nintendo in general.  Even the Twitch feed was loaded at around a jaw-dropping 200,000 viewers.  The tournament itself was divided into two separate ladders.  A standard point based FFA (1v1v1v1) which culminated in a duel Grand Finale (1v1) and a fan favorite ladder in which the fans within the audience would select which heroes/players they wanted to advance through visual vote via picture signs of the hero they wanted to move on.
Players
Lilian "Milktea" Chen (Pikachu)
Ken "Liquid|Ken" Hoang (Marth)
Hugo "HugS" Gonzalez (Mega Man)
Daniel "Liquid|KoreanDJ" Jung (Rosalina)
Neha "Lilo" Chhetri (Wii Fit Trainer)
Kris "MIOM|Toph" Aldenderfer (Pit)
Hendrick "CTRL|DJNintendo" Pilar (Bowser)
Sam "PeachyHime" McNaughton (Villager)
Juan "CRS|Hungrybox" Debiedma (Kirby)
Kevin "EG|PPMD" Nanney (Fox)
Kevin "MIOM|PewPewU" Toy (Mario)
Dakota "TheRapture" Lasky (Greninja)
Cristin "Crismas" DeSaro (Zelda)
Masaya "VGBC|aMSa" Chikamoto (Olimar)
McCain "CRS|MacD" LaVelle (Greninja)
Gonzalo "CT|ZeRo" Barrios (Zero Suit Samus)
A dominant hero since the days of the original SSB on the N64, Fox proved that he remained in the hearts of the fans.  Despite a massive amount of votes going Mega Man's way, PPMD was able to carry Fox to victory largely on skill.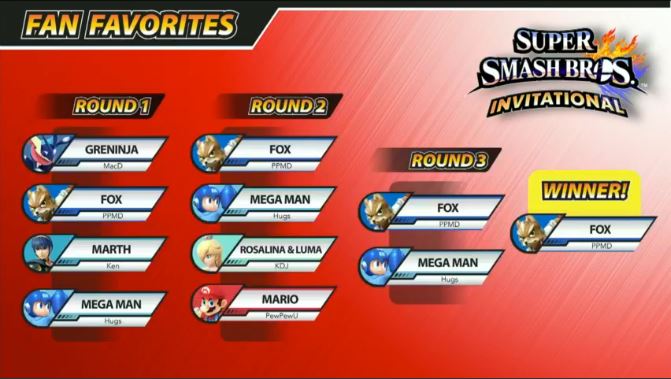 Fan Favorite Tournament Results
1. EG|PPMD (Fox)
2. Hugs (Mega Man)
3. PewPewU (Mario)
3. TL|KoreanDJ (Rosalina)
5. MacD (Greninja)
5. TL|Ken (Marth)
 The main tournament on the other hand was filled with ups and downs, with the high points being the sudden death matches and some home runs and the lows being a fair amount of missed final smashes.  When the dust finally settled, it was Kirby and Zero Suit Samus squaring off in an 8 minute battle to the death that took every single second to reach a conclusion…in sudden death.  Both players were well deserving of the spot as CT|ZeRo played exceptionally well; even obtaining 6 points in the first round.  CRS|Hungrybox likewise started strong with a similar round one.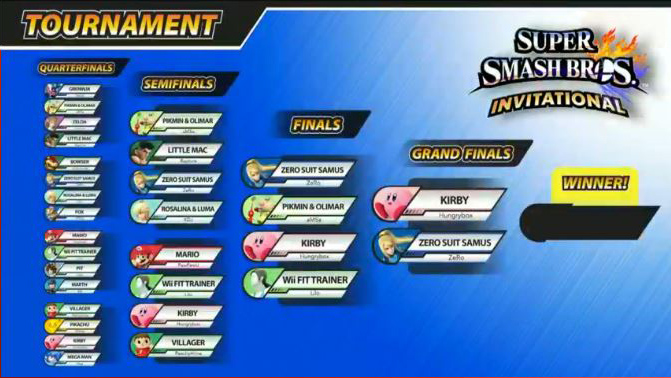 That said, when it comes to Sudden Death, it's usually fast and explosive and this ending was no different. ZeRo's Zero Suit Samus was able to slide by Hungrybox's Kirby and throw him off the right side of the screen for a quick end.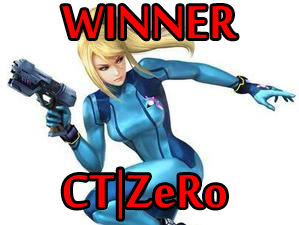 Main Tournament Results
1. CT|ZeRo (Zero Suit Samus)
2. CRS|Hungrybox (Kirby)
3. Amsa (Olimar)
3. Lilo (Wii Fit Trainer)
5. PewPewU (Mario)
5. PeachyHime (Villager)
5. TheRapture (Little Mac)
5. TL|KoreanDJ (Rosalina)
9. DJ Nintendo (Bowser)
9. Toph (Pit)
9. Milktea (Pikachu)
9. Crismas (Zelda)
9. EG|PPMD (Fox)
9. Hugs (Mega Man)
9. MacD (Greninja)
9. TL|Ken (Marth