While some images showing the actors of the upcoming Prince of Persia movie had already been leaked in the past, magazine Entertainment Weekly recently published the first official on-set still showing actor Jake Gyllenhaal in his role as Prince Dastan. The image, which unfortunately is quite small, is shown below. From the picture, it can be discerned that the Prince will be wearing armour that is much like the clothing worn in the second instalment of the videogame trilogy, Warrior Within.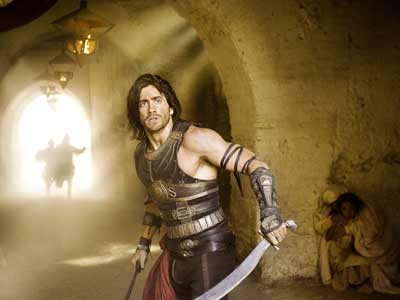 The movie, set for a release in late May 2010, is loosely based on the universe created in the Sands of Time trilogy. The story revolves around a street urchin named Dastan who is taken into the King's household after proving that he is valorous in combat. From here, Dastan begins to pursue the Sands of Time, in an attempt to prevent it from falling into the wrong hands. This plot does not follow the lines laid out in the Sands of Time game-trilogy.
Besides Jake Gyllenhaal (Brokeback Mountain, Jarhead) portraying Dastan, Gemma Arterton (Quatum of Solace) will portray Princess Tamina, Dastans love interest in the movie. Sir Ben Kingsley (Schindler's List, Lucky Number Slevin) will portray the antagonist of the movie, a nobleman who wants the Sands of Time for himself. The movie is being directed by Mike Newell, who also directed the fourth movie in the Harry Potter series, The Goblet of Fire.