Co-op. Versus. Capture the Flag. King of the Hill. Sometimes the only thing more fun than blowing away the computer is digitally conquering obstacles alongside friends or making new online enemies. Though online co-op and versus will never replace the hands-on experience of arcades, what it does deliver is something that is equally irreplaceable.
Nominees
Uncharted 2: Among Thieves (Naughty Dog, Sony Computer Entertainment)

Left 4 Dead 2 (Valve Corporation, Valve Corporation)

Borderlands (Gearbox Software, 2K Games)

Call of Duty: Modern Warfare 2 (Infinity Ward, Activision)

Operation Flashpoint 2: Dragon Rising (Codemasters, Codemasters)


Winner: Left 4 Dead 2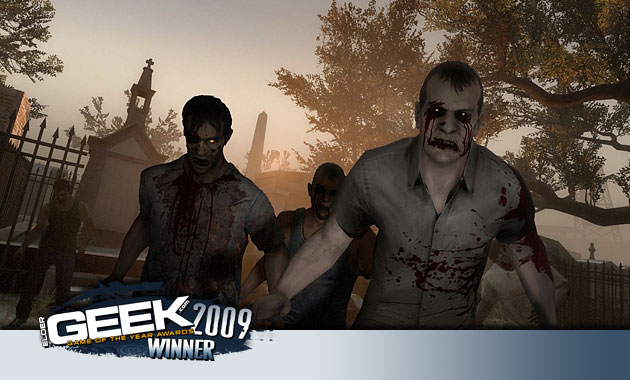 While Left 4 Dead 2 didn't bring much new to the table this year, what they have delivered is the most balanced game between cooperative play and versus play. Teams of four can compete with hordes of the undead for who gets to keep their brains at the end of the day. In versus modes, two separate teams compete for the same thing, except one team controls the gruesome undead as they coordinate their attacks to separate the survivors and make their lives a walking hell. While playing on the PC has its advantages for playing user made maps, mowing down crowds of zombies is equally satisfying on the Xbox 360.