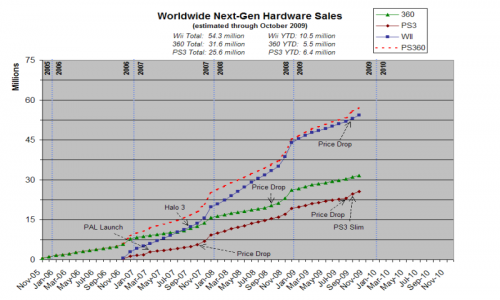 Microsoft, Nintendo, and Sony each spend some time spinning the sales of the recently released November NPD sales data. Despite an overall decrease of 8% from last year, each console maker had a positive thing to say for their own numbers. Nintendo's hardware sales total above 3 million between Wii and DS sales, the latter having the most handheld sales ever in the month of November.
"Nintendo products top Amazon.com's Most Wished For and Most Gifted lists for video games, and Wii remains at or near the top of the most-searched for video game terms on Yahoo!," said Cammie Dunaway, Nintendo of America's executive vice president of Sales & Marketing. "As families and friends gather for the holidays, Nintendo games offer the best shared experiences."
The Xbox 360 had the best month of its lifetime as well as the best month for software on the system as well, the console pushing $514 million in revenue (costumers spending $838 million in total on Microsoft gaming products.) The 360-version of Call of Duty: Modern Warfare 2 also outsold its PS3-version counterpart 2-to-1.
Sony's Jack Tretton took it upon himself to lay out the successes of the Playstation 3 in his own words.
"In November, PS3 was the only hardware console to see any growth when compared to last November, experiencing an 88% lift and a 122% increase from the previous month.  The sheer appetite and interest in the PS3 this holiday has been overwhelming and is exceeding our expectations. So much so, some retailers are expected to experience tight supply this December. There's no question the holidays are looking very bright for PlayStation and we're confident that the new year is on pace for the same with hugely anticipated titles hitting the platform, such as MAG, God of War III, BioShock 2, and Final Fantasy XIII."