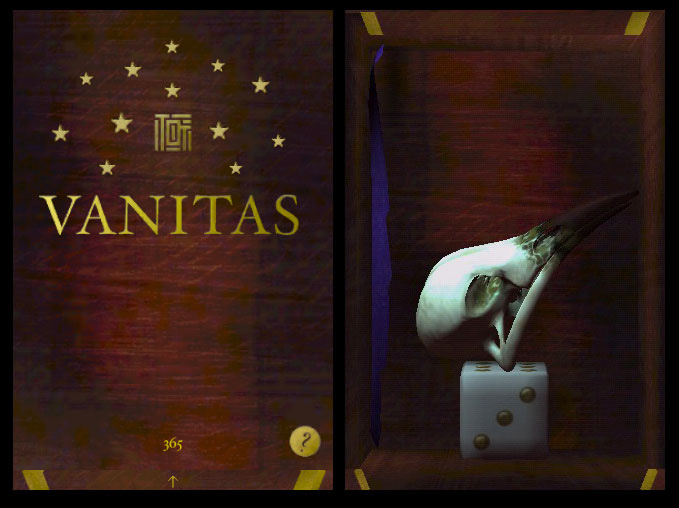 The Art History of Games is a three-day public symposium in which members of the fields of game studies, art history and related areas of cultural studies gather to investigate games as an art form held at SCAD in Savannah.
The symposium opens today and continues until February 6th in the High Museum of Art's Rich Auditorium on the campus of the Woodruff Arts Center, 1280 Peachtree St. N.E., in midtown Atlanta.
There Tale of Tales launches its first iPhone application, Vanitas .
Vanitas is a small virtual wooden box filled with objects that, juxtaposed next to each other, remind the player of their mortality. It's a meditative piece without rules. The only reward given to players is a golden star when three identical objects appear in the box. Zoė Keating added musical ambience on solo cello.
As of today, Vanitas can be purchased in Apple's App Store for $1. A trailer, screenshots, information and credits are available on Tale of Tales's website.
"Despite using contemporary technology, we are artistically inspired mostly by pre-modern art," admit creators Auriea Harvey and Michael Samyn. "In the 16th and 17th centuries, many Dutch and Flemish painters created still lives with symbols that referred to man's mortality. They were named after a famous quotation from the Bible by Ecclesiastes: "Vanitas vanitatum omnia vanitas". Or "Vanity of vanities, all is vanity", implying that everything we do in life is without meaning. Creating a "Vanitas" painting for the iPhone felt like the appropriate response to the commission by Ian Bogost and John Sharp."
Next to Vanitas, two other games were commissioned by the Savannah College of Art and Design and the Georgia Institute of Technology Program in Digital Media. A PC game by Jason Rohrer, entitled Sleep is Death (Geisterfahrer), and a life-size board game by Nathalie Pozzi and Eric Zimmerman, entitled Sixteen Tons.
For more information about Art History of Games visit the official website. To learn more about SCAD, visit their official website.