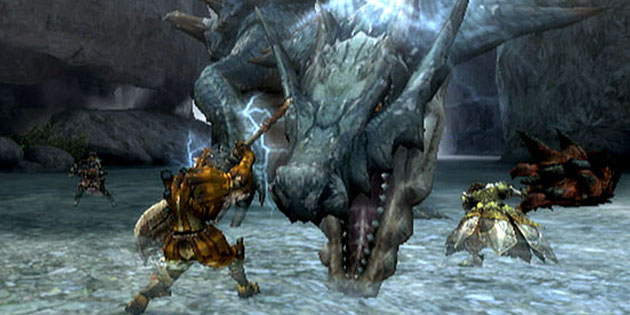 In the US, the Monster Hunter series has exclusively been on the Sony platforms. Now, all bets are off as Monster Hunter jumps to the Wii with Monster Hunter Tri. Although the series has never been very popular in the US, it has a loyal following of hardcore fans that know the games inside and out. While Tri is not targeted towards the Wii's usual audience, those of you who have a Wii sitting around collecting dust will probably get many hours of enjoyment out of this game.
At a quick glance, Tri might look pretty simple. The game's title is Monster Hunter, and the objective is just that, you hunt monsters. This title is a third person action game and while it might look like a mindless hack and slash on the surface, hunting monsters in Tri requires precision, timing and planning. Mastering this game takes a great deal of patience, but if you can get past the steep learning curve you will find yourself losing track of time during your hunts.
None of the Monster Hunter games really have an emphasis on the story. In fact, this is the first title that has a clear objective other than just accepting quests and hunting monsters. In Tri a giant sea monster is attacking a village and it is your job to kill it. That is the story. If you want a reason why the monster is attacking you will have to think one up yourself.  My personal favorite reason is one a friend of mine thought up: The monster let the village borrow its lawnmower and he is very impatient about getting it back. During the story you will start with some easy quests to get you used to how the game works, but at a certain point you will hit a wall and that wall is your perseverance test. Even though the story is almost nonexistent in Tri, it is not really necessary for this type of game.
In addition to the story mode there is a robust online mode available. Instead of using the friend codes like most other online Wii games, Capcom utilizes the tried and true lobby system where you can either team up with a group of friends, or random people. Unlike the single player, there is absolutely no story in the online mode. The only objective is to increase your hunter rank by completing quests to unlock bigger and stronger monsters to hunt. The online mode works really well and the only time I experienced any lag was when there were upwards of nine or ten monsters in the same area, AND with four hunters, so not that often.
The Monster Hunter series has always been very pretty looking. Tri is no exception. The scenery looks fantastic and is very immersive. There are quite a few monsters, weapon sets and armor sets and all of them look unique and very detailed. There is also a shallow character customization aspect, but most of it doesn't matter since your hunter will be covered head to toe in armor for most of the game. The animations for both the monsters and the hunters are fluid and look realistic, and the cut scenes look fantastic. My only complaint is that you can see some jagged edges here and there, but overall it looks like everything that could be done; was done, to make this game look as good as possible.
Since you are hunting monsters with often insurmountable odds, a bit of motivational music goes a long way. Tri's soundtrack is pretty unique from many other games. A good portion of the music has a tribal feel to it, and is often on the same grand scale as the monsters you're facing. There are also some quirky themes thrown in like the cooking theme. The sound effects are also worth mentioning. The weapons all have their own impact sounds and every monster, whether big or small, has its own grunts and roars. While the sound might be the last thing on your mind when you're being charged by a very large beast, this attention to detail really makes the game stand out.
Some newcomers might come into Tri expecting it to be a quick, easy hack and slash with some cool looking monsters. The only true part about that statement is the "cool looking monsters" part. To ultimately succeed in this game you will have to plan your attack, know your enemy and above all, be patient. If you go rushing into battle without doing any prep work you will most likely die many gruesome deaths.
Near the beginning of the game it's almost a given that new, and even some veteran players will die many, many times, especially since most of these monsters are new. Your character is not an invincible powerhouse with infinite strength. He or she is a fragile pile of skin and bones like the rest of us, so you have to figure out how each monster works and plan your attack strategy accordingly. Every monster fights differently, and while it might be difficult at first, you will eventually learn how to read the monster's attacks. The feeling you get when you overcome the odds and kill a new monster for the first time is one of great accomplishment.
The controls in Tri also take a little getting used to, but they come very naturally after a little while. If you purchase this title I highly recommend the bundle with the classic controller pro. The classic controller adds two grips on each side of the controller and improves the shoulder button layout. The addition of a second analog stick for the camera is also an invaluable asset when you compare it to the PSP version's D-Pad camera control. Also, instead of only fighting on land, some monsters take to the water and you'll have no choice but to follow them. The underwater controls add an extra axis to your movement, it mostly works. But sometimes I cannot tell how far away from the enemy I am and end up lunging my sword into some menacing seaweed and getting knocked across the area by an angry monster. The underwater fighting in Tri adds some variety to the combat and it is still fun, but if I was given a choice I would always choose to fight on land.
Planning and bringing the right items is also a critical part of having a successful hunt. For example, there are many different bombs and traps you can bring that will cause damage or immobilize the monster for a short period of time. This is usually a good time to deal massive damage to it, or recover your health and stamina, and sharpen your weapon. There are also situational items like a hot drink for increasing cold resistance in freezing environments and cold drinks for sweltering areas. Overall the combat in Tri is very punishing at first, but if you don't give up it becomes a very rewarding experience.
In addition to hunting monsters there is also quite a bit of item management. Throughout the game you will need to upgrade your weapons and armor, and for that you will need specific items depending on the upgrade. You get items by completing quests, skinning dead monsters and gathering materials. Since most of the weapons and armor are fashioned out of specific monster parts, you will have to defeat that monster (probably multiple times) to get that piece of equipment. There are a ton of different weapons and armor sets to make in Tri and many of them have specific attributes which make them effective against specific monsters, so you will always have plenty to do. While this might sound repetitious, it is far from boring. Each time you fight a monster it is a unique experience and when you finally get that new sword you've been working so hard for, you'll definitly want to test it out.
Monster Hunter Tri is a Wii title that is not targeted towards the Wii's general audience. It is a hardcore title with a cult following in the US and it is a very immersive experience. The environments and monsters look great and the soundtrack is fantastic. With the single player and the online modes coupled with the staggering list of weapons and armor you can make, Tri will definitely keep you entertained for a long time. If you can get past the initial learning curve you will find yourself losing track of time saying "just one more quest."