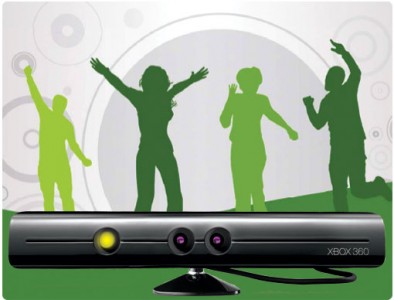 With Kinect's launch only months away, the device's technical specifications have been released as is the usual protocol with impending hardware (Nintendo's policies not withstanding.) Many have found some fault with the specs, citing a bit of mis-communication on the Xbox team's part between them and what was demonstrated at E3. While both the Cirque du Soleil event and Microsoft's own press conference showed as many as four people operating the device at once, according to the machine's statistics, its maximum processing capabilities only exceed to 2 "active" players.
While Kinect's skeleton-tracking camera can indeed recognize up to six people at once, the diction of the specs list seems to indicate that only 2 people can be playing any of the device's software at one point. It is worth noting that the device does support drop-in/out multiplayer, but Microsoft's official statement to Elder-Geek (as well as the rest of the industry) on the news is "We have not specified how many players will be able to operate the machine at this time."A full list of the released specifications can be found below.
More interestingly, reports and rumors are coming in from all across the industry of the device being unable to recognize the skeletons of its player once they sit down, preventing them from interacting properly and resulting in botched actions or a total lack of camera identification. Microsoft has not replied to Elder-Geek's queries on this specific issue, but given the widespread nature of the reports, many have accepted the limitation as fact for Kinect's fall launch.
Sensor
Colour and depth-sensing lenses
Voice microphone array
Tilt motor for sensor adjustment
Fully compatible with existing Xbox 360 consoles
Field of View
Horizontal field of view: 57 degrees
Vertical field of view: 43 degrees
Physical tilt range: ± 27 degrees
Depth sensor range: 1.2m – 3.5m
Data Streams
320×240 16-bit depth @ 30 frames/sec
640×480 32-bit colour@ 30 frames/sec
16-bit audio @ 16 kHz
Skeletal Tracking System
Tracks up to 6 people, including 2 active players
Tracks 20 joints per active player
Ability to map active players to Live Avatars
Audio System
Live party chat and in-game voice chat (requires Xbox Live Gold Membership)
Echo cancellation system enhances voice input
Speech recognition in multiple