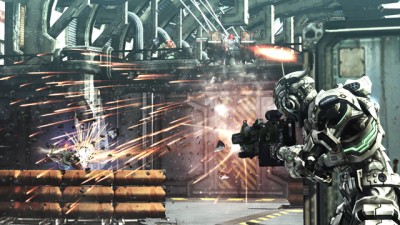 Shinji Mikami's high-0ctane mech-suit shooter Vanquish is highly anticipated by all trigger fingers, and Sega has released the official release dates for all regions, also listing a bit of pre-order information for those picking up the game in the States. The game is developed by Platinum Games, and is being made available on the Xbox 360 and the Playstation 3.
Japan gamers can pick up Vanquish on October 21st, Europeans on the 22nd, and those in the United States on the 19th. Those in the pre-order their copy at Gamestop will also receive an exclusive three-weapon combination pack. A description provided by GameStop follows below.
The Tri-Weapon pack contains a small arsenal of experimental technology, made up of the Boost Machine Gun, Anti-Armor Pistol and Laser Cannon. This triple threat of futuristic weaponry gives players an edge in surviving the frenetic and massive battles onboard the vast space station setting of Vanquish. The Boost Machine Gun is an early experimental weapon with impressive overall fire power and the speed to dispense rounds similar to that of a heavy machine gun. The Anti-Armor Pistol fires a special penetrative shell and was manufactured to tackle hostile forces with much stronger armor. Finally, the Laser Cannon is a miniaturized space warship laser and is more powerful than any other weapon available for infantry.