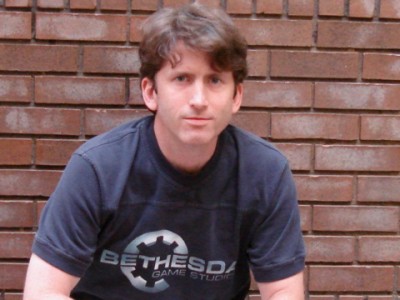 With little software coming out of Bethesda proper aside from re (and re-)leases of downloadable content, the company has remained pretty silent up until now on what they are working on and, more importantly, when we will get it. Executive Producer Todd Howard broke the silence at QuakeCon, saying that their next release is "pretty far along" and expected for this current console generation. The development process on the game proceeding the one currently on the burner is also well under way.
With a 90-person development staff, the game's expected announcement-to-launch window is expected by Howard to be "the shortest its been for us". While no concrete details were given on the game itself, Howard revealed that the current project it is running on the tech that powered Fallout 3, the one after bearing some newer tech.
"That's our starting point – the Fallout 3 tech. It started with Morrowind, we went to Oblivion, we did a lot between Oblivion and Fallout 3 because we had our final hardware – with Oblivion we had six months on final hardware, so Fallout 3 technically does a lot more than Oblivion. The new stuff is an even bigger jump than that." said Howard
With id Software announcing its restriction of the Tech 5 engine to internal Zenimax-owned production, it's assumed that the game after the next coming out of Bethesda will be among those inside projects showcasing the technology.