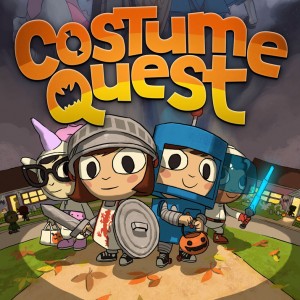 The folks at Tim Schafer's auteur development studio, Double Fine, have revealed their first title under their paired-down, non-AAA focused development style. Costume Quest is a downloadable PS3/Xbox 360 adventure-RPG, in which the combat turns the children into a more monstrous form of their costumes of choice. Set for release on (when else?) Halloween of this year, the game is headed by Double Fine lead animator Tasha Harris. The game is the first of two titles published by THQ, the second being a mysterious third-person action game for release next year.
"We wanted to make a big impression with these, our first downloadable games ever," said Tim Schafer. "So we are coming out swinging with two great adventures from two of the most creative minds in the company."
"Delivering high-quality content across a variety of digital distribution platforms is an important growth initiative for us, and we are pleased to do so with two titles whose potential appeal could encompass both hardcore and casual players," said Martin Good, executive VP of THQ Kids, Family, Casual Games, and Global Online Services.