As Gavin and Mats told you a few months ago (on a very wonderful podcast), my boyfriend of 5.5 years proposed! I know, I know… why is this on a video game website? That's simple! We're geeks (and nerds)! And it's only fitting that two geeks get engaged in the sweetest geeky way possible! (It's also a bit about showing the world that geeks can fall in love, court, and get married just like all the "normal folks" out there… but that's completely secondary, I promise!) Here's our story:
Nate Bennett and I have been dating for quite some time. We met in middle school, started dating in high school, and are currently doing the long-distance college thing. Nathan goes to DigiPen Institute of Technology in Redmond, WA (I wrote an article about it! Pledging Geek… You should read it). Long story short, he's going to make video games once he graduates.  And I'm a physics major at Grand Valley State University near Grand Rapids, MI and write for a video game website (for fun). Yeah… we're geeks/nerds. So how, pray tell, does a geek propose? Well, let me tell you! And boys, take notes, because this will make any geeky girl melt!
After my final exams, I flew out to Redmond to help Nate move his stuff out of his apartment and drive his car back to Michigan. On Monday, May 3, we spent the day in downtown Seattle since I'm absolutely in love with the city and we were done moving. We went to SciFi Museum (told you we were geeks!) and Experience Music Project, then had dinner at the Sound View Cafe (our favorite place to eat in Seattle). After dinner, we walked down to Myrtle Edwards Park, one of my favorite spots to watch the sunset on Puget Sound.
As the sun was setting, I was busy snapping pictures when Nate started talking about how we've been through a lot and we've been together for a long time. He said that he wants to make me happy and that he wants to be together forever. And then he reached in his backpack as he said, "In Harvest Moon, when you find a girl you really like, and she's perfect, if you love her and want to be with her, you give her a blue feather." (As soon as he said Harvest Moon, I was gone. Haha, tears everywhere) Nate pulled out a necklace with a blue feather and said, "Will you marry me?" OF COURSE I SAID YES!
Later that week, we drove through Nebraska to visit his uncle and he got me the most beautiful ring in the history of rings! Needless to say, we will have the geekiest wedding in the history of the world (except for maybe the couple that had Master Chief marry them). We've had some pretty geeky ideas for the wedding, so I thought I'd share a few of them with you. I can't promise any of these will make the final cut, but they're some ideas we've had. Our save-the-dates were completely geeky: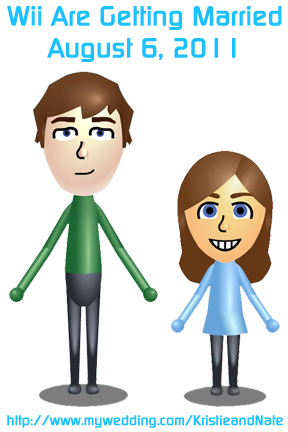 One thing I'm pretty sure we're doing is a Legend of Zelda cake topper. I'm not sure if it will be Link and Tetra from The Winder Waker, or if it will be Link and Zelda from Twilight Princess (Our first Zelda game that he hadn't played first), or maybe Link and Sheik from Ocarina of Time… all I know is that we have spent a lot of our relationship doing something related to Zelda, so it's going to be incorporated. I also found a Triforce tie tack and "Geek" cuff links for Nate.
The wedding cake will have video game characters and physics equations on it. There will be mirrors on the table with physics equations and code written on them. I already know what the groom's cake will look like, but that's a surprise for Nate, so I can't spill that secret! I do know it has something to do with his favorite video game though! We're having video game stations set up at the reception and I can guarantee that one of the big events of the evening will be our first Smash Bros. match as husband and wife! OH! And one of the best elements? My father is doing the ceremony (he's a pastor) and he's going to use liquid nitrogen to do a physics demo, as well as work in something video game related! AWESOME!
Nate and I have talked about doing a playable video game invitation, but that depends on us having enough time to code it. We'll see! But you better believe that if we can't pull that off, our invite will be just as geeky! Other random geeky ideas: ice flowers in my bouquet (New Super Mario Bros. Wii), blue feathers in lieu of rose petals, a Triforce somewhere on my wedding dress (again it's a surprise), or Zelda music for recessional/processional.
I'm sure that I'll keep you all updated via my blog (www.girlmeetsgame.blogspot.com or www.physicsphan.blogspot.com). Thanks for letting me share our moment with you and I look forward to writing a follow-up article after the wedding to let you all know just how geeky it was!