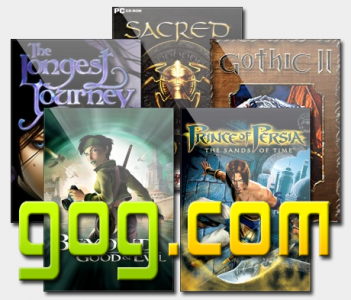 Fans of DRM-free PC classics bowed their collective heads today. The administrators of Good Old Games (GOG).com confirmed that the shut-down of their site was not, as it was previously believed, a publicity stunt. "Business and technical reasons" were the cited causes of the shut-down of the digital download retailer, with a more detailed explanation planned for this Wednesday. Those that have purchased games before the shut-down will be able to download them and their bonus features beginning this Thursday, although no specifics have been given on how users will be allowed to do it.
From GOG.com's homepage:
First of all, we apologize everyone for the whole situation and closing GOG.com. We do understand the timing for taking down the site caused confusion and many users didn't manage to download all their games. Unfortunately we had to close the service due to business and technical reasons.
At the same time we guarantee that every user who bought any game on GOG.com will be able to download all their games with bonus materials, DRM-free and as many times as they need starting this Thursday.
The official statement from GOG.com's management concerning the ongoing events is planned on Wednesday. If you want to receive further information about GOG.com, please send an email to update_users@gog.com if you're a user without a GOG account.