Already equipped with a major partnership with Electronic Arts, the Facebook platform got another high profile developer on board with two new social RPGs from Square Enix. Like the Final Fantasy series, the two games – Chocobo's Crystal Tower and Knights of the Crystals – prominently feature crystals not only in the name.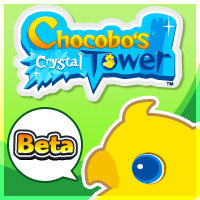 Chocobo's Crystal Tower players can breed the giant chicken creatures and send them on quests and battles for currency and treasures which can then be spent on updates for both individual chocobo wardrobes or facility upgrades. Knights of the Crystals is a more traditional RPG, with gamers customizing and leveling hero characters through challenges in both solo and cooperative campaigns.
"We're pleased to be supporting social gaming with these two exciting new Facebook games that offer very different but fun and friendly experiences," says Square Enix's Digital sales director Antony Douglas. "Both titles encourage socializing and adventure and boast a wide variety of content to keep players entertained."
Both games are currently in playable beta.