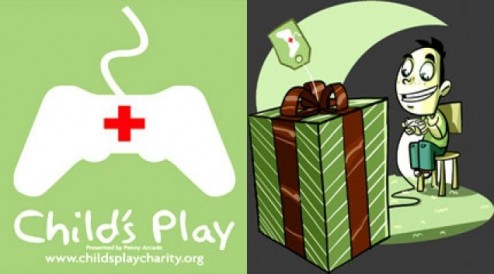 For the past four years since its inception, the Penny Arcade foundation's Child's Play charity has steadily exceeded its donations year-over-year, and 2010 represents a new plateau in that direction. Internal figures estimate that a new record of $2, 294, 317 was donated throughout the year, with major donors being Epic Game's "Fate of Carmine" Avatar t-shirt campaign, which raised $150,000,  and the "Humble Indie Bundle" release, which raised over $300,o00.
"I could not be happier with the record shattering results of our incredible Charity," said Mike Krahulik.

"I hardly know how to respond to it," exclaimed Jerry Holkins.  "The world may be a better place than I previously thought."
"Jerry's comment is better," added Krahulik.
"Just because we've surpassed our goal this year doesn't mean we're going to slow down, in fact we are planning to expand so we can help even more children next year," explains Kristin Lindsay, Foundation Coordinator.