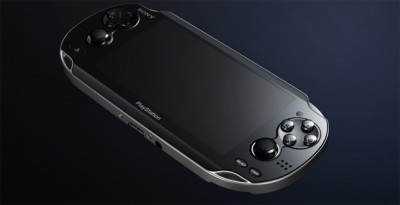 Sony's Playstation Meeting 2011 just ended, the company finally unveiling the worst-kept-secret-since-the-PSPGo!, the PSP2. Temporarily dubbed "NGP" or "Next Generation Portable", the handheld features a 5-in. OLED screen, two touch screen panels and cameras (1 front, 1 rear), a GPS, six motion sensors (including Sixaxis and some of Move's components), a built-in microphone, 3G functionality and – much to Elder-Geek's applause – two "Micro-analog sticks". Said nubs/sticks are above the d-pad and face buttons, with the system running at 960×544 resolution.
Demoed for the system were new iterations of Uncharted and Dynasty Warriors, with real-time rendering of trailers for Yakuza: Of the End, Unreal Engine 3, Metal Gear Solid 4 and Monster Hunter. A Call of Duty title was also announced for the system, with no other information given. Many other new and old first-party titles were featured in trailers (Hot Shots Golf, Little Deviants, Gravity Daze, Killzone, Reality Fighters, Smart As, Broken, LittleBigPlanet, WipEout, and Resistance) with third-party developers such as Hideo Kojima (Kojima Productions), Tim Sweeney (Epic Games), Jun Takeuchi (Capcom), Toshihiro Nagoshi (Sega) and Akihiro Suzuki (Tecmo Koei) promising new titles for the "NGP" at later dates.
In terms of other system specifications, the GUI for the "NGP" is a lobby dubbed "Live Area," in which other features like the Playstation Store are accessed via bubbled buttons. The "NGP" also features "Location Based Gaming", which keeps track of where you have walked, and the most popular and played games in your neighborhod with live updates. Also confirmed was the dissolution of the Universal Media Disc (UMD) format, with games now shipping on memory/flash cards (available in black, white, and silver).
No pricing details were announced, but the "NGP" is expected for a Holiday release this year, so expect more information at both E3 and Tokyo Game Show. For more immediate details on the system and the event that announced it, check out Elder-Geek's LiveBlog of the event.