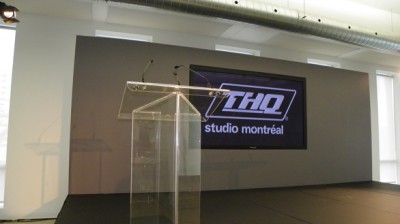 Last October Patrice Desilets made the surprising announcement that he would migrate from Ubisoft Montreal to THQ's new big-budget development house. While Desilets' non-compete contract will keep the studio in limbo until this summer, THQ hasn't stopped their conversion of former Ubisoft employees at just one person. Danny Bilson, Head of THQ's Core Games division, spoke in an interview with Joystiq about their new acquisitions.
"I don't think I can talk about the other three people we've already contracted because I wouldn't … I just know Patrice said, 'I need these three guys.' And I said 'Okay! Whatever you need!'," said Bilson. "We put all of them on retention and got them started on their non-competes [non-compete clauses]. I kind of know what their roles are, but they were the most important people to Patrice. All three of them are Ubi."
No names have been confirmed as attached to the studio, but expect more information as THQ's Montreal studio nears its opening in the coming months.