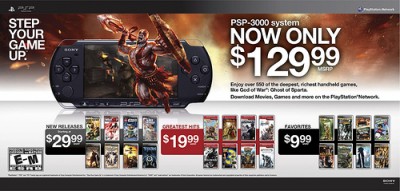 An expected move with a new portable on the way, Sony has dropped the price of the PSP-3000 model from $170 to $130 in the States. The reduction will go into effect this Sunday, February 27th, and comes in conjunction with massive software deductions across the PSP library.
Assassin's Creed: Bloodlines, Dissidia: Final Fantasy, LittleBigPlanet, Metal Gear Solid: Peace Walker and Toy Story 3: The Video Game have all been adopted into the $20 "Greatest Hits" label, while older titles like Daxter have dropped further into the $10 "Favorites" line. For the full list of discounted titles, go here.
Think this price drop will help the handheld's withering sales in this region? Happier to see the software price drops? Comment below with your thoughts!