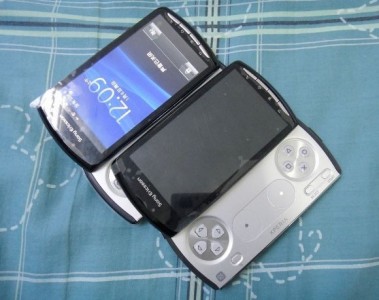 As part of the Mobile World Congress event in Barcelona, Spain, Sony revealed some more details on the "Xperia Play' mobile gaming device revealed during last week's Super Bowl.  As part of a larger conference on the Xperia brand, Sony described the device as "Playstation Certified" meaning in it will be compatible with the upcoming Playstation Suite mobile media platform. The "Play" will also run on Android's 2.3 ("Gingerbread") OS.
While the company itself had nothing more specific to say on the device, a press release sent out after the event provides a few hardware specifications. Aside from the obvious face buttons, pull-out panel, d-pad and dual analog nubs, the phone will run on a 1GHz Qualcomm Snapdragon processor and Adreno GPU. The screen is a 4-inch 480 x 854 multitouch, the device holding 400MB of onboard memory in addition to the 8mb available in the retail-included microSD card. Gamers can expect a 5 1/2 hour approximate battery life.
[youtube]http://www.youtube.com/watch?v=NW2EzdOyFMg[/youtube]
Some software was also discussed once Kaz Hirai took the stage, promising 20 developers on board starting at launch. Popular brands announced included FIFA (EA), Need for Speed (EA), The Sims (EA), Dead Space (EA), Battlefield (EA), Guitar Hero (Glu Mobile), Assassin's Creed (Gameloft), and Splinter Cell (Gameloft). Sony also announced a partnership with Unity, who will offer integrating the latest versions of their Unity development kit into phone models as they become available. The device will launch worldwide in March, carried in North America exclusively – for now – by Verizon wireless.
[youtube]http://www.youtube.com/watch?v=8VDzoMK0SI0[/youtube]
"It's the proudest moment of my ten years with Sony Ericsson," said Sony Ericsson Chief Creative Officer Rikko Sakaguchi said at the press conference. "Today is a very proud moment for Sony Ericsson as we bring something truly revolutionary to the market. Living up to our vision of Communication Entertainment, Xperia Play will forever change the way people think about smartphones and mobile gaming."
[youtube]http://www.youtube.com/watch?v=Xeh5ceh3OO4[/youtube]
Eager to switch data plans, E-Gs? Or does Sony need to bring more to the mobile table? Share your thoughts below!